The 2014-2015 ABF Road Team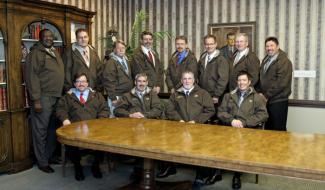 ABF Freight Road Team members for 2014-2015 and the service centers where they are based are: Donald Boileau, Enfield, Conn.; Donald Hyatt, Atlanta; Mark King, Dayton, Ohio; Tim Melody, Ontario, Ore.; Chad Miller, Chicago; Steve Smalley, Phoenix; Walter Stanley, Little Rock, Ark.; Chad Sullins, Albuquerque; Robert Sutton, Ontario, Ore.; Kirk Weis, Albuquerque; Bill West, Atlanta; and Todd Wilemon, Tupelo, Miss.
The ABF Road Team is long on safe-driving years and strong in leadership abilities, concern for the image of the trucking industry, and commitment to quality.