ABF Freight Clerk Aids Customer In Move To Canada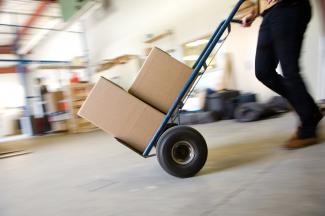 When a customer was moving across North America, she needed a mover that would get her belongings to her new home safely and on time.
This was a challenging move for the customer. The move was nearly 1,000 miles from Georgia to her new home in Ontario, Canada. She decided to use U-Pack, a service of ArcBest.
ArcBest℠ carrier ABF Freight® is the primary transportation provider for U-Pack moves. ABF Freight customer service personnel were there to guide the customer through the transition from the U.S. to Canada, but one employee particularly stood out, Administrative Services Clerk Nalini Sewbans.
The customer took a two-hour bus ride from where she was staying to the Canadian customs office, but the customs officer would not stamp her manifest. The customer said she spent hours traveling back and forth on the bus to get her manifest stamped, but no luck. Finally, she called Nalini for assistance.
Nalini called the customs office and explained the situation directly to a supervisor. After Nalini's phone call, the customer got her manifest stamped, and she was on her way to her new home in Ontario. 
The customer praised Nalini for her exceptional customer service, saying, "Her professional attitude, her quick responses to questions and her ability to take action on behalf of the customer to achieve the right outcome is remarkable."
The customer said ABF Freight customer service personnel provided her with prompt call-backs and clear instructions for the move.
"You delivered on every word, every statement, exactly as your contract outlined," she said. "And best of all, you have awesome staff that deliver excellent customer service!"