ABF Freight, Enterprise Solutions Solve Manufacturer's Multiple Challenges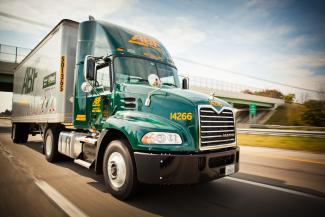 Often, customers are so pleased with the way the ArcBest companies solve a transportation problem for them that they look to the ArcBest team to solve additional challenges.
That happened after ABF Freight Branch Manager Matt Parrish and District Sales Manager Jack Hunt visited a manufacturer. Matt and Jack met with the business' decision-maker to find out if ABF Freight could provide service for the company. They learned that finding a freight carrier was not a high priority because the company leader was trying to handle many ongoing projects and his business was badly bottlenecked.
Because of the number and size of the ongoing projects, the customer's company also was looking to move to a bigger facility.
"I wanted to take that off the table for them," Matt said.
Matt offered to keep an eye out for open locations while he was making his rounds. He took note of couple of potential sites and later shared them with the customer. That follow-up got the customer's attention.
"He said it was out of the box and it showed ABF Freight was interested in being partners rather than just another carrier," Matt said.
The customer began to use ABF Freight for his time-critical shipments, which then led to conversations about his increasing number of global shipments.
The first shipment the customer requested was to Ghana. Matt collaborated with the ArcBest Enterprise Solutions team to ensure every part of the transport went smoothly. "From the beginning, there were constant changes in the landscape of requirements," Matt said. "The Enterprise Solutions team handled it fluidly, crafting custom and innovative solutions for almost everything."
The shipment made it to Ghana without any issues, and the customer has turned to ABF Freight for additional global shipments. Customers can rely on the ArcBest brands for all their transportation and logistics needs.