ArcBest's Martino Running Boston Marathon For St. Jude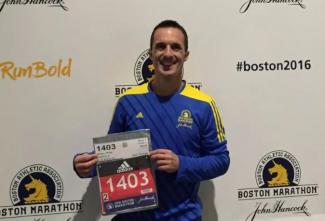 This month, Phillip Martino, director of Enterprise Sales for ArcBest, will run the 2019 Boston Marathon.
A member of the 2018 class of the ArcBest Leadership Academy, Martino is taking the opportunity to run the marathon in honor of his mother and raise funds for St. Jude Children's Research Hospital.
"I lost my mom to cancer, and St Jude's mission of supporting cancer research hits home," Martino said. "I mustered up the courage to bring the idea of running Boston in support of ArcBest and St. Jude, and the Leadership Academy group was very supportive."
Martino is taking donations via a Crowdrise website, with a goal of raising $15,000 for St. Jude.
"With the use of Crowdrise, we can share our mission and goals to an audience and provide an easy-to-use website that will allow anyone to give their support," he said. "And 100 percent of the donations will go directly to St. Jude in support of their mission of research and treatment. That is a win."
Martino has participated in the Boston Marathon before and has completed 13 marathons.
"I've been running since I was 13," he said. "I took time off in my 20s to raise my kids and start my career at ABF. My fire to begin running again took place when I was around 30 and was beaten by my father-in-law on a run. I would not say I like to lose, and it motived me to get better. Three-mile runs turned into six-mile runs and goals, and I started adjusting my goals."
Martino joined the company in 2004 as an account manager and served as a service center manager and district sales manager before being promoted to his current role in February.
The Boston Marathon will take place Monday, April 15. 
"I am proud to represent Team ArcBest in this endeavor," Martino said.
___________________________
Want to donate to Martino's effort? Visit his Crowdrise page.