Customer: ABF Freight Driver 'Extremely Polite, Professional'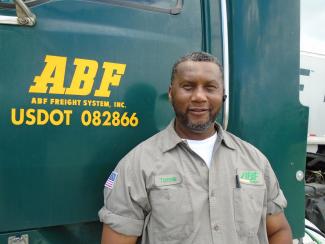 A customer who ordered a boat learned that its delivery would be curbside. The boat company tells its customers to make arrangements for unloading boats when they're delivered.
ArcBest carrier ABF Freight® was delivering the boat, scheduled for a Monday. The customer's husband arranged to take the day off work and to have his son there to help unload it. When the delivery date arrived, the customer called the local ABF Freight service center to confirm the delivery and to get an idea of when it would be delivered.
ABF Freight driver Tommie Fults delivered the boat. On his way to the customer's residence, he experienced delays because of heavy traffic. He called the customer to let him know about the delay and to reassure him the boat was on its way.
"When he arrived, Tommie apologized … and went out of his way to help my husband and our son unload the boat, even though it was not his job," the customer said. "He was extremely polite and professional."
The customer wrote an email to Service Center Manager Keith Blum to make sure he knew that Tommie and the ABF Freight team at the service center "went out of their way to make sure we were kept updated and informed about our shipment. They were all professional and pleasant to work with. Keep up the good work."
Keith said all employees are "ambassadors of ABF Freight," noting that the customer's email "made my day, will make Tommie and our office team's day, and it's a great motivator for all of us."