Customer: ABF Freight 'Put Competition to Shame'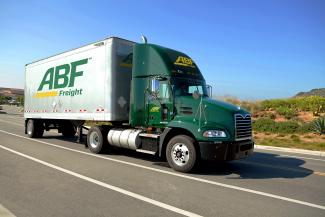 There's nothing more frustrating than a disappointing customer service experience. Jennifer Jolin experienced just that with another company when they were given her item for delivery.

The first sign of a potential problem happened when Jennifer couldn't track her item with the carrier because the shipping information was incorrect. Then, when the driver finally arrived at her home in an "unmarked, poorly kept box truck," he simply "laid on the horn." To top it off, her large package was handled carelessly and damaged.
When she placed another order a couple of weeks later, she dreaded the possibility of a similar delivery scenario. Soon, however, she received an email from ABF Freight to schedule delivery.

"ABF Freight, along with this professional driver, put the competition to shame," Jennifer said.

Driver Tim Stewart arrived at Jennifer's residence in "a professional, clean tractor trailer clearly marked to be an ABF (Freight) vehicle," she said. He greeted her with a smile, and then used a dolly to move the box to the rear drop gate and carefully ensured its safety as it descended from the trailer. Tim then "cautiously brought it into the garage and very carefully removed it from the dolly as if this item was his very own," she said.

Tim's "professionalism, exceptional knowledge of delivery, customer service and personality deserve recognition," Jennifer said. "There should be nothing better than knowing that you have drivers who love what they do and truly take to heart their job and duties as a member of your team."

At ABF Freight, we all strive for customer satisfaction and a higher sense of standard, and Tim displayed both with his professionalism and friendliness.