November and December 2017 Trade Shows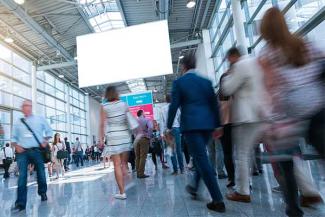 November and December trade shows happening in the U.S.
According to a trade show industry study, more than 90 percent of trade show attendees represent potential new clients who are shopping for solutions. That's an exciting situation to be in — especially when you consider that more than 80 percent of those attendees have some authority to make recommendations on final purchasing decisions. To help make sure you're taking advantage of all possible opportunities, we've compiled a list of trade shows happening in November and December 2017.
Need to ship your trade show booth and marketing materials? Contact ArcBest® to get details about our shipping services for trade show materials.
Top trade shows in November
International Pool, Spa and Patio Expo
The International Pool, Spa and Patio Expo will take place November 1-3 in Orlando, Florida. The event offers attendees a chance to discover the latest swimming pool supplies and pool construction products. Interested in being a vendor? Call the expo at 888-869-8522 for details about registration requirements.
FABTECH 2017
FABTECH, the country's largest metal fabricating and welding trade show, will be November 6-9 in Chicago. This trade show will have the latest metalworking goods and accessories on display for potential buyers. Interested vendors may sign up online to exhibit at the show.
PASIC 2017
The Percussive Arts Society International Convention (PASIC 2017) will be November 8-11 in Indianapolis. This convention is considered one of the largest organized marching band percussion festivals in the country and features the latest drumming and percussion equipment and accessories. If you wish to exhibit or advertise at the show, apply online.
Athletic Business Show
Sporting goods equipment providers and manufacturers should make plans to attend the 2017 Athletic Business Show, scheduled for November 8-11 in Orlando, Florida. The show attracts thousands of attendees each year. Contact Steve Statsick by email or phone at 608-729-4191 to learn how to exhibit your products at the show.
Healthcare Design Expo and Conference
The Healthcare Design Expo and Conference will take place November 11-14 in Orlando, Florida. At the show, exhibitors will get to display their goods in front of leading healthcare industry professionals, build relationships with new customers, and strengthen relationships with existing clients. Register now to become a vendor. For additional information, contact conference officials at 407-816-7900.
Boutique Design New York
Companies with inventory catered to the hospitality and design industry should plan to be in New York City from November 12-13 for Boutique Design New York. The event is expected to draw more than 7,800 hotel and hospitality owners, operators and designers who will be looking to purchase the latest merchandise for their businesses. Interested vendors may apply now.
HX: The Hotel Experience
Hotel and restaurant industry professionals are making plans to go to HX: The Hotel Experience, scheduled for November 12-13 in New York City. Exhibitors will get to connect with some of the most innovative minds in the hospitality industry, and attendees will learn about new trends and developments. Vendors should apply before October 16 to get the discounted registration rate.
IAAPA Attractions Expo
The International Association of Amusement Parks and Recreation will host its annual trade show November 14-17 in Orlando. Register before September 29 to receive full exhibitor benefits and reduced registration fees. View booth pricing and other important information here.
RVIA National RV Trade Show
Makers of recreational vehicles and other RV-related goods are preparing for the RVIA National RV Trade Show, scheduled for November 27-30 in Louisville, Kentucky. To exhibit at the show, sign up for booth space now. For additional information, contact trade show officials at NationalRVTradeShow@RVIA.org.
International Workboat Show
Commercial ocean vessel owners and operators, marine architects, military equipment buyers and others who work in ocean boating will be attending the International Workboat Show November 29 through December 1 in New Orleans. Exhibitors who attend the event will have a chance to showcase their products and make connections with customers. If you're interested in becoming an exhibitor, contact Chris Dimmerling at 2017-842-5666 or by email at cdimmerling@divcom.com.
December trade shows
Abilities Expo – DC Metro
The 2017 Abilities Expo will be held December 1-3 in Washington, D.C. Fabricators and service providers with products catered to meet the needs of people with disabilities or special needs should register now to be a vendor at the show. Move-in dates are scheduled for November 29 to December 1. Exhibitor kits with important dates may be found here.
NGFA Country Elevator Conference and Trade Show
Manufacturers of grain elevators and related components should make plans to exhibit at the National Grain and Feed Association's Country Elevator Conference and Trade Show December 3-5 in Louisville, Kentucky. The conference offers networking opportunities with agriculture experts and an opportunity for vendors to get their products in front of those in their target demographic. Vendor registration is currently underway.
Construction SuperConference
Makers of construction products geared toward facility design or other large-scale projects are making plans to attend Construction SuperConference December 4-6 in Las Vegas. Vendors can discuss their products with mid- to senior-level real estate developers, building contractors and other construction industry executives. Contact Emily Clay at 770-291-5439 or by email to become an exhibitor.
Orthopaedic Summit
The Orthopaedic Summit, scheduled for December 6-9 in Las Vegas, is considered one of the largest gatherings for those in sports medicine and orthopaedic surgery. More than 800 orthopaedic industry professionals are expected to be at this year's event, so manufacturers of products that cater to this industry should mark their calendars to attend. To exhibit at the show, contact Matt Van Wie at 804-550-2312 or by email at matt@esvw.com.
Massachusetts Conference for Women
The Massachusetts Conference for Women will be held December 7 in Boston. Exhibitors with goods, products or services that apply to women, or employers who have job opportunities available for women are encouraged to attend. To register to exhibit at the show, fill out an exhibitor application form online.
Shipping to a trade show
Trade show exhibitors can trust ArcBest for the transportation solutions they need. From online shipment tracking to on-time delivery and pickup services, we provide customizable trade show shipping solutions that help everything go as planned. When we're the official carrier of a show, we'll have one of our experienced trade show coordinators on site to answer your questions and assist you with anything you'll need.
Call 844-560-2527 or email our trade show customer service team to get started.