Scheurer Goes 'Over the Edge' For Charity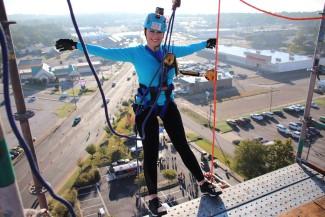 Overcoming anxiety about the unknown, Mallory Scheurer spent an October morning rappelling down the tallest building in Fort Smith, Arkansas — while raising more than $3,000 to help cancer patients.
Scheurer, senior manager – Process Development & Compliance for ABF Freight, had never rappelled before taking part in Over the Edge, a fundraising event benefiting the Donald W. Reynolds Cancer Support House in Fort Smith.
Participants rappelled 130 feet down the Arvest Bank Tower in Fort Smith.
"I'm not afraid of heights, but this was my first time ever rappelling and I had no clue what to expect," Scheurer said. "It was a little nerve-wracking and I was so concentrated on what I was doing while I was coming down. But I am so glad I did it."
Leading up to the event, Scheurer set a $3,000 fundraising goal. She posted links and updates on Facebook and emailed friends asking if they could contribute.
"The fundraising was a big thing for me because when I set a goal for myself, I like to meet and exceed it," Scheurer said. "I think what the Reynolds Cancer Support House does for cancer patients and their families around here is very, very helpful. I wanted to do what I could to help."
She raised $3,070.
"I am very proud of the work Mallory put into this ever-so-important event to support the Reynolds Cancer Support House," said Mark McMinn, senior vice president – Operations & Safety for ABF Freight. "Not only did she meet the challenge, she exceeded the challenge. Mallory has a great heart and cares deeply about people."
The Over the Edge event was part of the Survivors' Challenge Weekend. This year marked the 27th annual Survivors' Challenge 10K and 5K and the third annual Over the Edge event.
"We ran, walked and rappelled for cancer survivors in our community," states the Reynolds Cancer Support House website.
The Reynolds Cancer Support House provides free goods and non-medical support programs and services to cancer patients and caregivers. It is the largest free-standing cancer support facility in the country.