Throwback Thursday: 1959 — ArcBest Buys Healzer Cartage Co.
In September 1959, ArcBest (then known as Arkansas-Best Freight System Inc.) purchased Healzer Cartage Company of Kansas City, Missouri.
The purchase gave ArcBest authority into the Kansas and Milwaukee areas, adding about 1,800 franchise miles to the carrier's authority. "Now we can also offer one-line freight service between our Ohio points and Kansas and between Kansas City and Chicago and Milwaukee without intermediate handling," said Robert A. Young Jr., president of Arkansas-Best Freight System.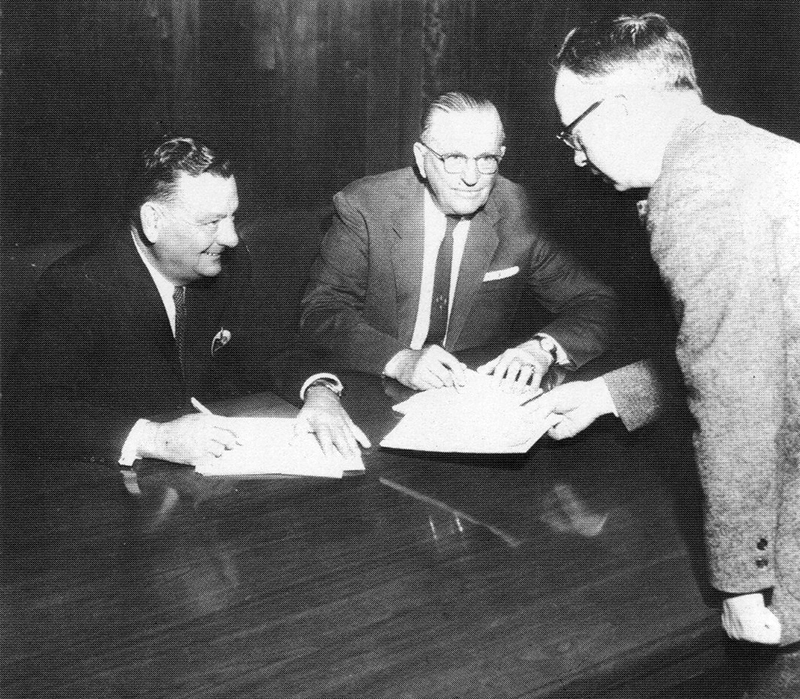 Robert A. Young Jr., left, and John Healzer sign papers for Arkansas-Best Freight System's purchase of Healzer Cartage Company in 1959 as Charles K. Franks with Merchants-Produce Bank looks on.
With the purchase, we increased our number of service centers from 34 to more than 50 in 13 states.
Rolland C. Hutcheson, assistant vice president and assistant general sales manager for Arkansas-Best, became general manager of the Healzer operation.