Throwback Thursday: 1961 — Company President Testifies Before House Committee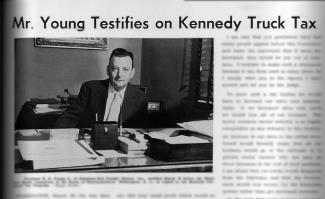 In March 1961, Robert A. Young Jr. testified before the Ways and Means Committee of the U.S. House of Representatives.
Young was president of ABF Freight (then known as Arkansas-Best Freight System), having bought the company in 1951. His testimony focused on a tax program proposed by President Kennedy.
Young and others in the trucking industry opposed the proposal, which increased federal taxes on diesel fuel, truck licenses, tires and retread rubber.
"Naturally, I am very concerned for myself and my employees about any increase in taxes on our industry," Young testified. "We believe that we are paying more than our fair share of the tax burden."
At the time, Arkansas-Best operated in nine states and had 32 service centers.
In June 1961, Kennedy signed the Federal-Aid Highway Act of 1961, which extended a temporary 4-cent fuel tax. According to the John F. Kennedy Presidential Library and Museum, the Act also increased taxes on trucks weighing over 26,000 pounds from $1.50 to $3 per 1,000; inner tubes from 9 cents to 10 cents a pound; highway tires from 8 cents to 10 cents a pound; and tread rubber from 3 cents to 5 cents a pound.