Throwback Thursday: 1963 — Danny Thomas Honors ABF Freight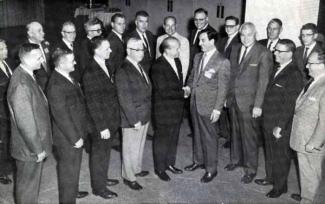 In October 1963, ABF Freight (then known as Arkansas-Best Freight System) was one of 22 trucking companies awarded for providing free transportation to Aiding Leukemia Stricken American Children (ALSAC).
Comedian and actor Danny Thomas hosted a "Breakfast with Danny Thomas" at the Morrison Hotel in Chicago to thank trucking executives for their efforts. Bill Farnsworth, ABF Freight service center manager in Chicago, received the award on behalf of ABF Freight.
In the photo, Farnsworth is on the front row, second from the left; Thomas is fourth from the right.
Thomas used his fame to help raise funds to build St. Jude Children's Research Hospital in Memphis. The hospital opened in February 1962.
"Motor carriers have been active in the hospital project from its outset. Mr. Thomas thanked the trucking industry for the 'unselfish assistance' to ALSAC, and he credited the Indiana Motor Truck Association and several trucking companies with coordinating and expediting the tremendous flow of fundraising campaign materials," according to a November 1963 article in the employee magazine.
According to the St. Jude Hospital website, ALSAC is the nation's second-largest health care charity is supported by the generosity of 9 million donors and the efforts of more than 1 million volunteers nationwide.
In 1958, Farnsworth began working for Delta Motor Line, which ABF Freight acquired in 1962. Farnsworth retired from ABF Freight in 1974.