Throwback Thursday: 1977 — ABF Freight Trailers Reflect 'Traffic Manager' Ad Campaign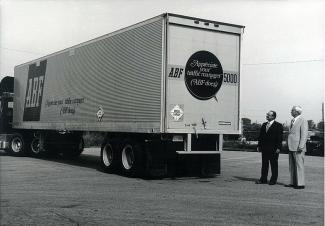 In 1977, new ABF Freight trailers included graphics along the sides and rear doors that emphasized its long-running ad campaign, "Appreciate Your Traffic Manager."
White Advertising Company of Shelby, Indiana, prepared the five-piece set adhesives to apply to 85 new ABF Freight trailers before they went on the road.
At the time, Harry Fink, ABF Freight vice president of maintenance, noted that the graphics also served as an added safety feature, as light deflectors.
ABF Freight (then known as Arkansas-Best Freight System) promoted the national slogan — "Appreciate Your Traffic Manager (ABF Does)" — for about 10 years, from 1969 through the late 1970s.