Throwback Thursday: 2013 — One-of-a-Kind Painting Celebrates 90th Anniversary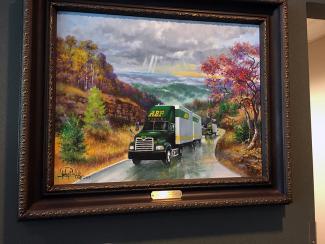 As part of our 90th anniversary celebration held in September 2013, a popular Fort Smith, Arkansas, artist known for his historic artwork painted a piece that depicts two ABF Freight® trucks driving along a picturesque highway.
John Bell Jr. painted "On The Road" to mark the 90th anniversary of ArcBest, which got its start in 1923 as local freight hauler OK Transfer & Storage Company.
Bell's works have been featured across the country, including at the Kennedy Center for the Performing Arts, the University of Arkansas in Fayetteville, the University of Arkansas at Fort Smith, the Crescent Hotel in Eureka Springs, Arkansas, the Capitol Hilton in Washington, D.C., and the Governor's Mansion in Lincoln, Nebraska.
According to Bell's wife, the ABF Freight truck painting was his final piece; the artist died in November 2013 at age 76.