Throwback Thursday: ArcBest Technologies Formed In 1962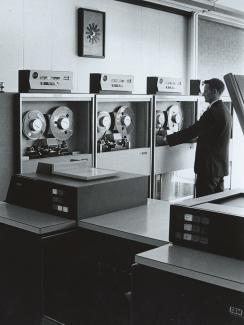 In 1962, ArcBest Technologies (then known as Data-Tronics) was organized. It employed 10 people who worked using an IBM 4K 1401 Card System Computer.
"The Data-Tronics division of the parent company was organized to effect savings for the company and to render customer service," the employee magazine reported in 1962. "It will handle such important and time-consuming operations as accounting systems, sales analyses, payrolls, computing and printing checks, labor and cost analyses, inventory control and market analyses."
The IBM 1401 system went into service in May 1962 at the company headquarters in Fort Smith, Arkansas. "We're real proud of this installation since we are among the first companies in Arkansas to receive one," states a company note to employees.
The system included a 1401 Processor, 1402 Card Reader-Punch and 1403 Printer; initially, it primarily was used to process freight bills, employee timecards and payroll.
As the in-house IT company for ArcBest Corporation, ArcBest Technologies and its role have grown as the parent company has grown. Today, ArcBest Technologies and its employees provide innovative and up-to-date technology solutions. They design, program and maintain business application systems for Internet, mainframe, client/server and personal computer environments.
By 1967, ArcBest Technologies employed 26 people as programmer and systems analysts. Today, more than 300 people work for ArcBest Technologies.
Want to know more about ArcBest Technologies? Visit www.arcbtech.com.