Time-Critical Service, Sales Team Impress ABF Freight Customer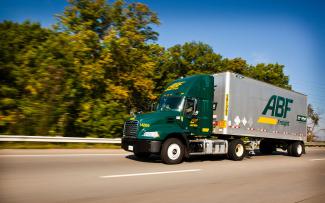 ABF Freight account managers have to have extensive knowledge of the services the company provides, as well as confidence in those services so they can find solutions for a customer's unique needs.
Account Manager Candice Ervin had been in contact with a manufacturer for quite some time. She talked to them several times to better understand their business and their unique needs. She knew winter was the busiest time of year for their business, and by asking the right questions, she learned they required several time-sensitive shipments to locations all over the country.
"They definitely had a time-definite need, and service commitment was of the utmost importance for them and their customers," Candice said.
On-time delivery was crucial, and the customer was unsure if the carriers they had been using could secure a truck in time for the winter shipments.
Candice assured the customer of ABF Freight's commitment to quality by "doing it right the first time." She used ABF Freight's time-critical service guarantee to gain an opportunity to take on the customer's LTL freight.
The customer was nervous about using ABF Freight for the first time, but ABF Freight delivered the shipments as scheduled. By receiving communication through follow-ups by the Sales Support team and proactive notifications through the time-critical service, the customer had a positive experience.
"I truly believe his positive experience with ABF Freight quality and our TimeKeeper service opened the door for LTL freight that we would have never otherwise been given as shot at," Candice said.