Trade shows happening in March and April 2018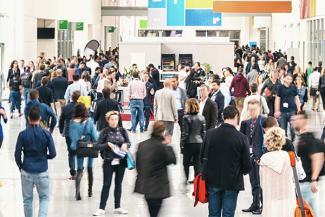 March and April trade shows taking place in the U.S.
Trade shows and professional conferences often attract thousands of guests, which means they're ripe with opportunity for businesses that exhibit at them. Trade shows give vendors a chance to unveil new products, discover new trends, network with colleagues and more. If you're planning to exhibit this spring and need to get your booth or marketing materials to a show, contact ArcBest ® to learn about our trade show shipping services, and get info on how you can book your shipment today.
Top March trade shows
International Beauty Show — IBS New York
More than 500 exhibitors will be on-hand at the International Beauty Show, which is set to take place March 4-6 at the Jacob K. Javits Convention Center in New York City. This trade show gives vendors the opportunity to showcase their products in front of stylists, salon owners, retailers, buyers and others in the industry.
The Work Truck Show
Work truck fleet operators, manufacturers, dealers and equipment distributors are making plans to attend the Work Truck Show March 6-9 in Indianapolis at the Indiana Convention Center. Exhibitors will have the opportunity to display and sell new trucks, parts, gear and other accessories.
Ohio Safety Congress & Expo
More than 7,000 occupational safety, health and workers' compensation professionals are estimated to attend the Ohio Safety Congress & Expo. Exhibitors at the show will have the opportunity to mingle with prospective customers and showcase their products and services to those in their target industry. The event takes place March 7-9 at the Greater Columbus Convention Center in Columbus.
HPBExpo® (Hearth, Patio & Barbecue Expo)
The 2018 HPBExpo (Hearth, Patio & Barbecue Expo) will take place March 7-10 at Music City Center in Nashville, Tennessee. Exhibitors will be able to meet with customers and other industry leaders and display their latest grilling, or outdoor kitchen and heating products, services and technologies.
ASD Market Week
More than 45,000 retail merchandise buyers from all over the globe are expected to attend ASD Market Week on March 11-14 at the Las Vegas Convention Center. This is one of the largest retail merchandise buying events in the world. Attendees have the opportunity to meet a wide variety of buyers, including mass merchants, independent specialty stores, department stores, college bookstores and much more.
Data Center World Global Conference
Nearly 4,000 information technology professionals will gather March 12-15 at the Henry B. Gonzalez Convention Center in San Antonio, Texas, for the Data Center World global conference. At the show, vendors and suppliers of electronics, computers or other data-driven merchandise can showcase their products and services to potential clients.
Midwest Poultry Federation Convention
The Midwest Poultry Federation's annual convention will take place March 13-15 in Minneapolis, Minnesota, at the Minneapolis Convention Center. Products, services and technology that are catered to the poultry industry will be on display, giving the 3,200 expected attendees a unique buying opportunity.
Ace Hardware Spring Convention
Authorized Ace Hardware retailers from across the country will gather at the Kay Bailey Hutchison Convention Center in Dallas on March 15-17 for the annual Ace Hardware Spring Convention. This event offers product exposure to Ace Hardware store owners and managers who make buying decisions for their stores.
ISS Atlantic City
Apparel and clothing retailers, buyers and wholesalers from the decorated apparel industry are making plans to attend the ISS (Imprinted Sportswear Shows) spring exhibition in Atlantic City, New Jersey. The event, scheduled for March 15-17 at the Atlantic City Convention Center, is expected to draw nearly 10,000 key buyers, retailers and industry experts who are searching for new trends and innovative products. Attendees include those interested in screen printing equipment, embroidery techniques, blank apparel, digital decorating solutions, promotional products and more.
NFMT 2018 – Baltimore
The National Facilities Management and Technology (NMFT) Conference & Exposition will host its annual conference March 20-22 at the Baltimore Convention Center. Thousands of facility management officials interested in making facilities smart, sustainable and healthy are planning to attend the event. NMFT officials estimate that nearly 87 percent of attendees have buying power.
IHRSA
The International Health, Racquet & Sportsclub Association's (IHRSA) annual trade conference will be March 21-24 at the San Diego Marina District. The conference features over 100 education sessions taught by professionals in the health club industry, more than 350 exhibitors displaying the latest in fitness equipment and technology and networking opportunities with industry experts.
Global Pet Expo
The Global Pet Expo will take place March 21-23 at the Orange County Convention Center in Orlando, Florida. With more than 6,700 pet care supply retailers, distributors, buyers and others in the field, the show will feature a wide range of new, innovative pet products for dogs, cats, birds, fish, reptiles, small animals and horses.
ISA International Sign Expo
The International Sign Association's (ISA) Sign Expo is where sign, graphics, print and visual communications professionals are exposed to a wide variety of the latest print and digital signage. ISA members can get up to date on industry news along with educational programs in graphic design, sign code legislation, technology and more. It takes place March 21-24 at the Orange County Convention Center, South Hall in Orlando.
Mid-America Trucking Show
More than 72,000 attendees including drivers, dealers, fleet maintenance managers, OEMs, mechanics, owner-operators and fleet owners will be attending the Mid-America Trucking Show, slated for March 22-24 in Louisville, at the Kentucky Exposition Center. The event will feature more than 1,000 exhibitors and offer educational seminars, product presentations and more.
Spring Cottage Life Show
The Spring Cottage Life Show will take place March 22-25 at The International Centre in Mississauga, Ontario, Canada. The show attracts thousands of outdoor sporting enthusiasts each year, and gives vendors who sell products such as boats, dock building materials and supplies, outdoor décor and water sports equipment the opportunity to sell their products in front of their target market.
JLC Live 2018
Residential construction and contracting professionals will head to the Rhode Island Convention Center in Providence, March 22-24, to attend the JLC Live Residential Construction Show. Vendors here will be able to get their products and services in front of residential construction professionals, including suppliers and manufacturers, from the New England area.  
GlobalShop
More than 10,000 retail designers, merchandisers and wholesalers will be attending GlobalShop March 27-29 at McCormick Place in Chicago. As the nation's largest retail design industry trade show, attendees get everything from store design and visual merchandising to retail technology and shopper marketing leaders all in in one place. It's a great place to see the latest in retail technology and store design.
April
Marine Hotel Association Conference 2018
Cruise line and cruise line suppliers will gather April 8-10 at the JW Marriott, Grande Lakes in Orlando for the Marine Hotel Association's annual conference. This conference provides a great opportunity for those in the cruise industry to talk about current trends and meet face to face with a host of exhibitors, from linen suppliers and flatware companies to food and beverage services.
NACE Corrosion 2018 Conference & Expo
Corrosion engineers, scientists, researchers, technicians and professionals from over 60 countries across the globe are preparing for the NACE Corrosion Conference & Expo — the world's largest corrosion conference and exposition. The event takes place April 15-19 at the Phoenix Convention Center, and offers educational resources along with opportunities to connect with industry experts who are dedicated to the prevention and mitigation of corrosion around the world.
INTERPHEX
INTERPHEX 2018 is scheduled to take place in New York City at the Jacob K. Javits Convention Center April 17-19. The conference is considered the premiere buying and learning event for the pharmaceutical and biochemistry industry, and it brings in more than 11,000 industry professionals each year. At this conference, professionals meet together with industry leaders to share best practices and see the latest technologies and machinery in the pharmaceutical industry.
Cruise360
The Cruise Lines International Association (CLIA) will host its annual Cruise360 event April 17-23 at the Greater Fort Lauderdale/Broward County Convention Center in Fort Lauderdale, Florida. It's the industry's largest conference and trade show, and it's where you'll find travel agents, cruise line representatives and industry suppliers all in one place — for educational workshops, networking events and trade show exhibits.
ICCFA Annual Convention & Expo 2018
Crematory and funeral home professionals are planning to attend the International Cemetery, Cremation and Funeral Association's (ICCFA) annual convention and expo, slated for April 18-21 at the Mandalay Bay Resort & Casino in Las Vegas. The conference draws more than 1,000 guests annually and gives exhibitors the opportunity to connect with cemetery, cremation and funeral service owners and managers from across the world.
Experimental Biology 2018
More than 14,000 scientists and diagnostic medicine industry thought leaders will be in attendance at the annual Experimental Biology conference The event takes place April 21-25 at the San Diego Convention Center and is open to those interested in the latest research impacting life sciences —including anatomy, biochemistry, molecular biology, investigative pathology, nutrition, pharmacology and physiology.
FDIC International 2018
The annual Fire Department Instructor's Conference® international gathering will be April 23-28 at the Indiana Convention Center & Lucas Oil Stadium in Indianapolis. With over 33,000 attendees expected, the event features hands-on training exercises, learning seminars and will have exhibitors displaying the latest equipment and technologies related to the fire safety field.
Trade show shipping with ArcBest
When you choose ArcBest to move your exhibit and marketing materials, we'll provide pickup and delivery services to or from any location, and we'll make sure your belongings arrive on time, intact and damage free. Use our online tracking system to keep up with your shipment while it's in transit, and take advantage of our experienced trade show specialists to help you manage your freight throughout the shipping process. Have additional questions? Give us a call at 844-560-2527.