U-Pack, ABF Freight Make Customer's 'Emotionally Challenging Time' Easier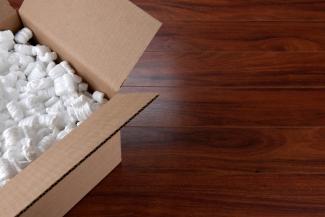 Moves are stressful. Add in moving generations of belongings across the country, and it can be an emotional experience for anyone.
When U-Pack and ABF Freight employees made a difficult move easier for a family, customer Holley Clough was quick to praise them.
Holley and her family used U-Pack to move her 83-year-old father out of his longtime home and across the country. After the experience, she listed specific ways U-Pack and ABF Freight exceeded her expectations:
"I had to empty out generations of belongings and antiques out of my father's home," she said. "One day it was pouring and we couldn't get the antiques into the ReloCubes" U-Pack allowed her extra days to get the ReloCubes packed. "Such a relief," she said.
"I ordered one ReloCube; you allowed us to have a second cube in case we needed it. We ended up using it. Such a relief," she said.
"The ReloCubes beat us across the country. You kept them until we arrived, without extra charge. Such a relief," she said.
"The (ABF Freight) driver in the Jamestown/Erie area was absolutely outstanding with advice and personal service," she said. "He's very good in what he does with people and customer service and really should be commended."
"Meredith Hawblitzel (lead service consultant for U-Pack) discovered our billed amount was too high and adjusted the charge. Such a relief! Thank you, Meredith, for your attention to detail," Holley said.
"You made a really difficult and emotionally challenging time much easier for our family," she said. "Such a relief; thank you."
Holley said the attention to detail and flexibility the U-Pack employees provided was "absolutely outstanding."