ABF Freight Drivers, Customers Work Together for Smooth Delivery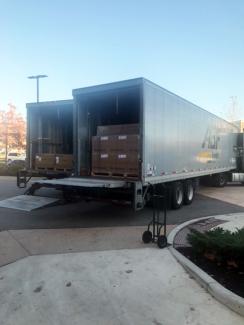 The Skill is unloading a heavy shipment to a business location without a dock.
The Will is making a potentially complicated delivery uncomplicated.
At our Dayton, Ohio, service center, teamwork and communication are key to meeting customers' needs.
A new fitness center shipped its equipment via ArcBest's time-critical service and its less-than-truckload carrier ABF Freight®. The equipment was arriving in four different shipments, all requiring liftgate service through Dayton. Liftgate service typically is used for heavy items or delivery locations without a dock.
Before shipping, the customer emailed the freight dimensions and noted that "other carriers are surprised how much space the equipment actually takes up." The Dayton team reviewed the dimensions and determined two liftgate vans were needed for delivery.
When the drivers arrived at the fitness location, they made contact with the customer's crew to unload the equipment. They decided the best location to park the trucks and got to work. Everything was unloaded in less than an hour.
"This is another example of how our ABF Freight drivers and our customers work together to make a smooth delivery," said Joe Weaver, operations supervisor at the Dayton service center.