ABF Freight Terminals Collaborate to Keep Customer Promise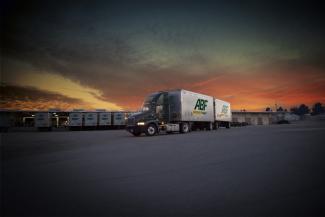 Even when a roadside emergency happens, ABF Freight finds a way to make on-time deliveries.
On a Thursday morning, a customer contacted Phil Atwell to see if ABF Freight could pick up a sizable shipment (six pallets totaling 11,300 pounds) in Michigan and get it delivered the next day in Sevierville, Tennessee, near Knoxville.
Before Phil, a district sales manager for ABF Freight, made a promise to the customer, he reached out to his colleagues at the Knoxville terminal to ensure the next-day delivery could be accommodated. Once he ironed out the specifics, he contacted the customer and the shipment was picked up later that afternoon.
About 6:30 p.m., Phil received a call that the pickup had been made, but the driver had blown out a tire and was stuck on the side of the road awaiting assistance. Phil knew the window of time to get the freight transferred to the Knoxville driver was small, and he worried that the emergency would cause the shipment to be late.
"I went to bed that night hoping that somehow this freight would make it to Knoxville in time, but in my heart thinking it wouldn't happen," Phil said. But Phil was wrong — when he traced the shipment the next morning, he was pleasantly surprised to find it was being dispatched to Knoxville, with a delivery time estimated for late morning.
Phil called the Knoxville terminal to check on the shipment, and the dispatcher there assured him the delivery would happen. Phil then communicated with the customer to let her know that ABF Freight had her covered.
"We got a huge thank you from the customer, were rewarded with another shipment that same day, and got a commitment to sit down and discuss other opportunities," Phil said.
Phil called the collaboration "another great example of multiple terminals and ABF Freight personnel exhibiting The Skill and The Will."