ABF Freight Terminals Collaborate to Solve Logistics Problem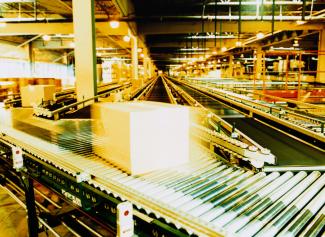 Sometimes solving a logistics problem for a customer involves a creative approach that includes several terminals.
One of the largest ABF Freight accounts for the Toledo, Ohio, service area operates specific production lines that rely on just-in-time shipments.
A supplier located in the La Crosse, Wisconsin, service area sends products to that customer, and ABF Freight was delivering them through standard two-day service — but the customer asked if the freight could be delivered in just one day to keep its production lines moving as scheduled.
Brad Mull, the Toledo branch manager, wanted to find a way to meet the customer's request. He reached out to the Region 3 office for assistance, and ultimately worked with multiple departments and terminals to conceive a logistics solution. 
Brad recognized that the road driver, on the way to the terminal, was driving past the customer. So instead of the shipment being taken to the terminal and the city driver then backtracking to deliver it, the road driver now delivers it en route to ensure it arrives within one day.
Region 3 also set up an automated report that emails each terminal as well as Linehaul Operations for all the shipments moving from La Crosse to Toledo. Involved solving the problem were Brad, Trevor Collis, Ed Myers, Mathew Wolff and Debra Smith. And after Brad moved to the Detroit terminal, new Toledo Branch Manager Lorie Young has continued to ensure the customer's needs are met.

By collaborating with various terminals as well as departments at the general office, employees created a solution to provide excellence the customer expects from ABF Freight. They identified a pattern failure, developed a corrective action and implemented a procedure. One of many ways ABF Freight finds a way.
See how ABF Freight can solve your transportation challenges.