Women's Forum of New York Honors ArcBest
On Nov. 7, 2019, the Women's Forum of New York recognized ArcBest for achieving at least 30 percent female representation on its board.
ArcBest was among 323 companies honored at the annual Breakfast of Corporate Champions.
The biennial Breakfast of Corporate Champions honors S&P 500/ F1000 companies that measurably exceed the national average of board seats held by women with special recognition approaching the Forum's goal of parity with at least 40 percent of board seats.
ArcBest also was recognized in 2017 and 2015.
The Women's Forum of New York founded its corporate board initiative in 2011 "to accelerate the advancement of women on corporate boards across all industry sectors." Founded in 1974, the Women's Forum of New York is the flagship of the International Women's Forum, a global organization of nearly 6,000 outstanding women leaders in over 74 Forums around the world.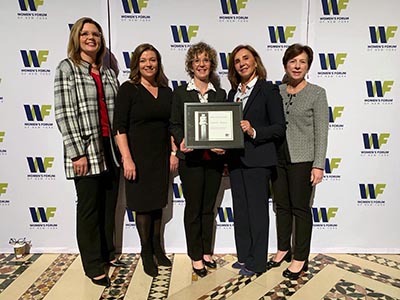 Pictured at the 2019 Breakfast of Corporate Champions are Chief Human Resources Officer Erin Gattis, Vice President – Customer Experience Lori Brooks, Chairman, President and CEO Judy R. McReynolds, and board members Janice Stipp and Kathy McElligott.