America's Road Team - 2007-2008 - Tony Spero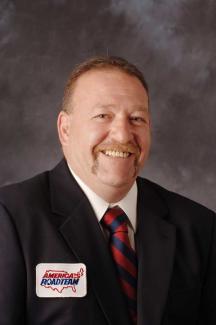 Anthony (Tony) Spero, Stratford, Connecticut, driver/salesman, stresses patience and being attentive to detail when driving. He is very proud to be a truck driver and proud of ABF. One of his favorite job-related activities is taking an ABF unit to speaking engagements when he can share safety lessons with the general public. He knows it is important for him to do his part in educating the public about how the trucking industry is working to improve highway safety and control noise pollution.
Tony qualified as a competitor in the National Truck Driving Championships when he won the Tank Truck Division of the Connecticut State Driving Championships in 2000, 2004 and 2005. His 16 years of accident-free driving are reflected in those wins, as well as first-place wins in his division in 1997 and 1999. He has received ABF's 10-Year Safe Driving Award and ABF's Silver Award for safe driving.