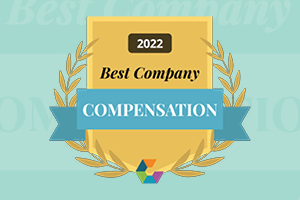 Company honored once again with Best Places to Work Awards
ArcBest was recently recognized in Comparably's 2022 Best Places to Work series in the categories of Best Compensation (large companies) and Best Perks & Benefits (large companies). These awards are based solely on anonymous employee feedback and are provided quarterly to top performing company cultures. The final rankings for both awards were compiled during a 12-month period (September 2021 to September 2022) from 15 million ratings across 70,000 companies in the U.S. and Canada.
These Comparably recognitions demonstrate ArcBest's continued commitment to being a leading place to work, where our core values of Creativity, Integrity, Collaboration, Growth, Excellence and Wellness are lived out each day, and our employees feel valued, with opportunities for both personal and professional growth.
Rankings for the awards are determined by questions related to work-life balance (in yes/no, true/false, 1-10 scale and multiple-choice format). The answer to each question was given a numerical score and then compared to companies of similar size. To qualify, large companies (more than 500 employees) must have met a minimum of 75 employee participants. For fairness and statistical significance, additional weight was given to companies with more participation from their employee base relative to company size.
See other Comparably awards ArcBest has received.
Creating a workplace where employees thrive
Our people are at the very heart of our success and why we've been in business for nearly 100 years — and we're focused on ensuring their experiences are positive and consistent across the organization.
Providing competitive pay in a competitive environment
Receiving a Comparably award for Best Compensation displays ArcBest's dedication to paying our employees competitively, fairly and equitably. Because employees are more satisfied and motivated to work when they're confident in their pay, we have a team of skilled compensation analysts who use best-in-class, globally recognized data sources to continuously analyze market data and evaluate our compensation packages — ensuring our offers remain competitive and fair across the organization. We also provide employees the opportunities to receive performance-based raises and yearly bonuses.
Offering benefits packages that encompass total wellbeing
The Best Perks & Benefits recognition reflects ArcBest's core value Wellness. Through Wellness, we are building a company that embraces our employees' total health — because we know that when our employees have access to the benefits that enable them to be their best self, they're more engaged and better equipped to serve our customers well. To continue improving our employees' overall experience and create a better work-life balance, so far in 2022, we have made enhancements to several policies, including our vacation, sick and maternity leave policies, as well as announced new partnerships with multiple new wellness programs, available to employees and their families who participate in our Choice Benefits program.
Learn about other perks and benefits ArcBest employees have access to.
What ArcBest employees are saying about our compensation and benefits
These recognitions are based on anonymous employee feedback on Comparably.com to a variety of questions regarding an employee's overall satisfaction with their compensation and benefits packages. Questions include:
Are you satisfied with your benefits?
Do your benefits play a part in you staying at the company?
Do you believe you're paid fairly?
And here's what some of our employees are saying on Comparably.com:
"Enjoyable place to work with great benefits."
"I think the pay is very competitive and compensation recognizes performance."
"We have a great vacation policy, and our benefits are out of this world. I don't have to worry that doctor bills will break the bank. ArcBest has me covered."
"ArcBest is constantly evaluating the job market and compensation scale for my particular job and seems committed to keeping up with industry pay."
"The benefits and pay are the best in the area by leaps and bounds."
"Robust benefits that support wellbeing at all stages of life."
Come be part of our award-winning culture!
We're constantly looking for ways to enhance our benefits and compensation packages, as well as all areas of our business, to create a culture where employees can grow and succeed.
Check out career opportunities available at ArcBest.
About Comparably
Comparably (now a ZoomInfo company) is a leading workplace culture and corporate brand reputation platform with over 15 million anonymous ratings on 70,000 companies. With the most comprehensive data on large and SMB organizations in nearly 20 different workplace categories — based on gender, ethnicity, age, experience, title, industry, location and education — it is one of the most used SaaS platforms for employer branding and a trusted third-party site for workplace culture and compensation data.