Benefits of Exhibiting at a Trade Show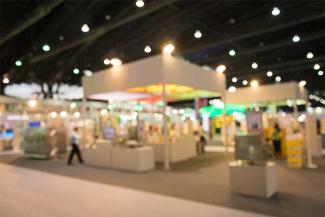 The advantages of participating at a trade show
Imagine a bustling trade show floor full of prospective buyers. Trade shows can reap financial rewards for those who market their services to the buying public. Research shows that 64 percent of trade show attendees represent new business opportunities for companies. In fact, many who go to these events are active buyers seeking information about products, services and the latest trends related to their business. Regardless of your industry, exhibiting at a trade show presents many advantages.
Five benefits of trade show marketing
Trade shows offer a number of great marketing opportunities and often prove lucrative for vendors. Whether you're a first-time exhibitor or a seasoned pro, your business can benefit from:
Gaining brand awareness

Establishing brand awareness is an integral part of any business. Trade show marketing is a great way to get your company's product in front of hundreds if not thousands of potential customers and educate them on the services you provide. It also helps your brand become a recognizable and reputable source within the industry. To help increase brand awareness and leave a lasting impression, be sure to:

Have an eye-catching booth design
Interact with attendees
Differentiate your company from the competition
Use social media to connect with visitors
 
Establishing relationships

From the showroom floor and breakout sessions, to the fun, after-hours networking functions, trade shows provide an effective atmosphere for exhibitors and customers to interact face-to-face. By targeting key contacts, vendors can discuss how their services can benefit a customer's business. Doing this helps develop good relationships, build brand trust and strengthen bonds.
Networking opportunities

Networking is crucial in helping your business grow. Along with meeting clients, exhibiting puts your business in direct contact with industry leaders. Trade shows present great opportunities to exchange ideas with fellow vendors, hear the latest buzz in the industry, learn about new products, and keep up with what the competition is doing.
Generating leads

People attend business conferences because they're interested in the products or services being presented. And because these events are heavily attended, they're the ideal platform for generating leads. This means you have the opportunity to meet with a variety of customers, collect business cards and make plans to follow up once you're back in the office. In fact, research shows that more than four out of five people walking the sales floor are potential customers — which can mean the more leads you gather, the more sales you'll make.
Presenting your products and services

Did you know 92 percent of attendees say their No. 1 reason for going to trade shows is to look at and sample new products? This means they're the ideal venue to test and demonstrate your company's products and services to a specific market. They also allow you to answer questions and get immediate feedback to learn what will and won't sell.
 
Thinking of exhibiting? Ship trade show materials with ArcBest
Part of having a successful trade show experience is making sure your booth and materials are delivered exactly when and where you need them. By hiring an experienced carrier, you can ensure everything arrives intact and on time. ArcBest® offers a portfolio of trade show shipping solutions from online tracking and careful material handling to on-site storage. No matter what services you need, we'll find a way to deliver. For questions, call 844-560-2527 or leave us a comment below.