Reverse logistics – need, want, or both?
Do you ever wonder what happens when your product expires and can no longer be sold? Or what happens when your product is recalled and needs to be remade? The answer lies within reverse logistics. Reverse logistics may seem to be a complicated solution, but for many businesses, it's vital to the health of their overall supply chain.
What is reverse logistics?
Reverse logistics is the process of moving products and materials at least one step back in the supply chain. It's most often associated with returns and recalls, but it's also used for recycling programs, asset recovery and disposal. Essentially, this is how companies recoup value from returned goods or items that are no longer useful in their current state or location.
How does it work?
There are two main methods involved in reverse logistics: consolidation and deconsolidation. Both strategies allow for goods to be moved from the original destination to a new one. Your logistics provider will be able to examine your supply chain to determine which is best for your business.
Consolidation
When using the consolidation strategy, product is in multiple locations and must be delivered to one central location. These goods are generally shipped LTL to a central warehouse. From there, goods are loaded onto a full truckload and shipped to where they need to be.
Deconsolidation
Deconsolidation is when goods are already at a central location or warehouse, and they need to be moved to multiple locations. A full truckload picks up a load of product at this central location and brings it to a warehouse for sorting. Goods are then shipped out from this central warehouse to other locations using LTL services.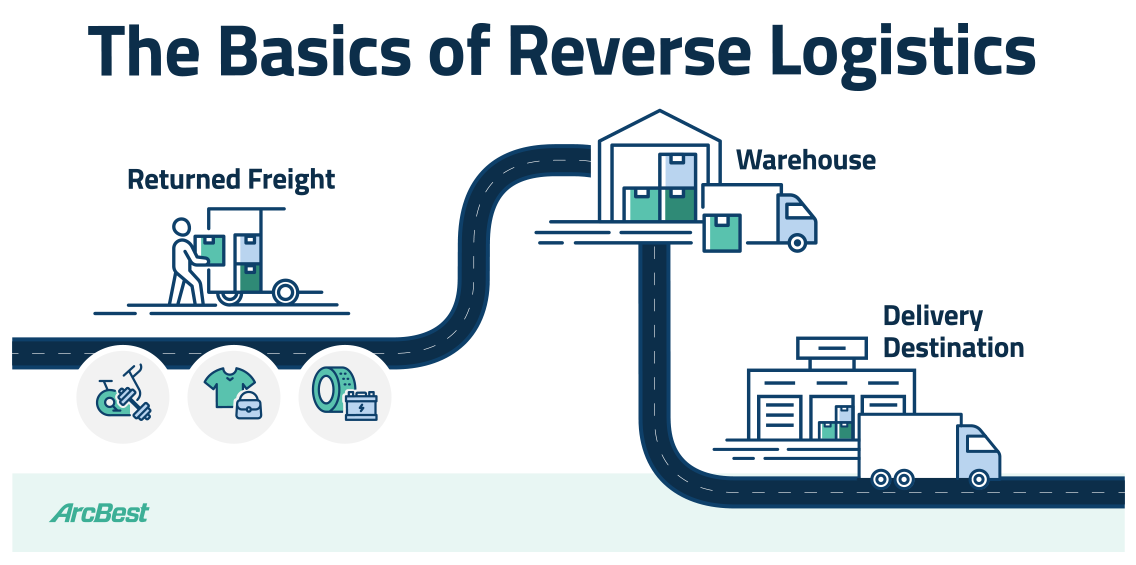 When to use reverse logistics
Now that you have an understanding of how this solution is executed, let's dive into when it makes sense to utilize it.
When your product is expired
If you work in the retail industry with products that have a shelf life or expiration date, then reverse logistics may already be a part of your supply chain solution. When a product expires during warehousing before being sold, reverse logistics allows for the product to be taken out of the warehouse and disposed of properly. This accomplishes two things: it allows for more room in your warehouse and allows you to dispose of goods correctly if there are special instructions to discard them.
Learn about logistics solutions for the retail industry
Remanufacturing or recycling
Reverse logistics is also an important part of the remanufacturing of goods. If you have a line of goods that turns out to be defective, then it may make sense to utilize this solution. This will save you time and money in remanufacturing, as opposed to simply removing the defective product from the shelves and disposing of it.
For example, because car parts are mass-produced and generally expensive to make and sell, they serve as a case for remanufacturing and the use of reverse logistics. If a line of car parts is defective, instead of disposing of the product directly, a company may choose to send these parts back to be rebuilt and ultimately resold.
Warranty claims
When customers return products covered under a warranty, reverse logistics enables you to maintain control of the process. Whether you choose to dispose of the goods or remanufacture them, working with this method makes the return process flow in the right direction.
Excess inventory control
Reverse logistics can be used when you have too much product in the warehouse and need to move it to secondary markets or different distribution channels. Redirecting surplus goods can help alleviate a bottleneck at your current warehouse while producing a new income stream.
Why use reverse logistics?
Effectively using reverse logistics not only helps with the scenarios above, but it also ensures you're responsibly managing the entire lifecycle of your products and materials. Embracing these strategies allows companies to see a range of benefits, from reducing their impact on the environment to improving customer satisfaction.
Learn more about the benefits of reverse logistics
Let ArcBest create your reverse logistics strategy
Implementing a reverse logistics strategy takes experience and knowledge of the industry as well as your business's transportation strategy. ArcBest takes a personalized approach to managing your supply chain: getting to know your business needs while leveraging our experience in the industry to serve your needs. Connect with an ArcBest professional today to discuss your reverse logistics program and begin to save time and money.