How ELDs Affect Shippers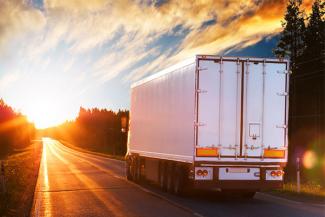 Adjusting to the ELD mandate
On April 1, 2018, the Federal Motor Carrier Safety Administration (FMCSA) began strictly enforcing the long-awaited electronic logging device (ELD) mandate that was implemented in December 2017. The mandate requires most commercial truck drivers to log their hours of service (HOS) electronically, rather than on paper. This new log rule was designed to create a safer driving environment, decrease driver delays and streamline the way carriers manage shipment schedules.
Electronic logs are the new norm
The ELD law is one of the industry's biggest regulatory changes in the last 30 to 40 years and applies to more than 3 million drivers. Previously, paper logs left room for errors or inaccuracies. And while HOS laws aren't changing, ELDs will enforce them to help ensure drivers remain refreshed and alert on the road.
ELDs work like this: the device synchronizes to a vehicle's engine and automatically records driving time, mileage, location and any other vehicle movements. Because they enforce driving limits, drivers must obey HOS laws. Failure to comply can mean dealing with out-of-service vehicles and hefty fines.
Taking drivers' hours of service into account
According to the FMCSA, a driver can work 14 hours each day. This includes a maximum of 11 hours for driving and a required 30-minute break that must be taken before they've been on duty for eight hours. Drivers may not drive if they've been on duty for 70 hours within an eight-day period.
Note: Short-haul drivers are exempt from using an ELD unless they work 12-hour days eight or more times within a 30-day period.
The effect on shippers and drivers
While it's too soon to understand the overall impact ELDs have on the transportation industry, there are already some concerns about how the mandate is affecting shippers and drivers — specifically dock delays, longer transit times and the loss of valuable driving time. The less time drivers have to transport goods over the road, the longer it takes for freight to arrive at its destination. This means, for example, that shipments scheduled as a same-day delivery could turn into a next-day delivery.
Dock delays are one of the most common problems impacting available drive time. A DAT Solutions survey questioned 257 carriers and found that nearly 54 percent of their drivers were often detained between 3-5 hours at a shipper's loading dock, with 9 percent reporting delays of five hours or more.
As everyone continues to adjust, shippers can do some things to help ensure quick transit times and a healthy supply chain.
How shippers can help reduce driver delays
Shippers can help drivers get back on the road quickly by planning ahead and proactively communicating. Here are some tips for improving shipping efficiency:
 
Provide accurate information. Give your carrier the specifics of the shipment, a concise pickup or delivery window, and detailed directions to your facility.
Prepare parking. Since the implementation of ELDs, parking has become a major issue. Drivers sometimes have trouble finding a safe place to stop when they near the end of their allowed driving time. You can help by designating a parking area with access to any locked gates or loading areas. If possible, consider providing drivers with a restroom, refreshments and a break room where they can be comfortable while waiting.
Stage freight on the dock. Have the freight properly packaged and ready to load prior to pickup.
Be available during pickup and delivery. Have a crew ready to load or unload shipments, if needed.  
Clear loading areas. Make sure designated loading areas are free of debris to make the loading and unloading process as smooth as possible.
Stagger shipments. If you have multiple shipments going out in one day, consider staggering pickup times to reduce the number of trucks waiting at the dock at the same time.
Be flexible. Being available during non-business hours and weekends to load your freight can allow drivers to travel during the mid-day, evening or weekends, when traffic tends to be lighter.  
Consider intermodal shipping. Consider using intermodal services for shipments traveling distances of 750 miles or more. By combining truck and rail transportation, you can move your freight quickly and efficiently — without worrying about HOS regulations.
 
Are electronic logging devices impacting capacity?
Shippers may encounter limited capacity while the industry continues to adjust to these new regulations. However, those that rely on carriers who have already made the transition and adjusted to it will be least affected by the capacity crunch.
ArcBest® carrier ABF Freight® adapted to the change in 2016, retrofitting ELDs into all existing tractors and ensuring all new equipment is equipped with the technology. Our Panther Premium Logistics® fleet has been 100 percent ELD compliant for several years and provides the option for global positioning system (GPS) technology on all vehicles. 
Questions?
Do you have questions about electronic logging devices or the recently implemented mandate? Call 800-610-5544 or email customersolutions@arcb.com.