Maritime Market Report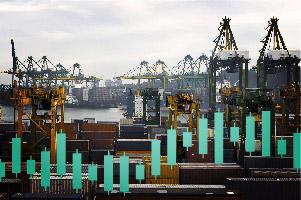 October 2021 ocean freight market update
In a "normal" year, August, September and October bring high demand for ocean containers as shippers work to get their products imported in time for the holidays. International logistics providers typically introduce special programs during this time to help shippers meet their deadlines, but because 2021 has already maxed out available capacity, these traditional programs aren't enough to resolve the underlying market challenges. This means shippers will need to work more closely with their international service providers to utilize available capacity efficiently and find ways to stay competitive in their industries.
Quick numbers:
10 – the number of container shipping lines handling over 90% of the global container transportation (and these mega carriers are sharing their vessels).
78 – the record number of vessels currently anchored off the coast of southern California
600,000 – the number of containers at anchor in Long Beach, Los Angeles
14 – the standard number of days shipments from central and north China are delayed
What's caused the global supply chain challenges?
Several events have happened in 2020 and 2021 that have created challenges for shippers:
Covid-19
The Covid-19 outbreak has had lasting effects on the shipping industry. The initial shutdown in China caused labor shortages across Chinese maritime segments, which resulted in a significant reduction in exports from mainland China. This led to mass blank (cancelled) sailings, which were estimated to cost container lines nearly $350 million in revenue each week. As the virus continued to spread across the globe and more people were quarantined, labor shortages and blank sailings continued while ecommerce spending began to rise. The increased demand for goods primarily coming from China during this time led to capacity issues the industry still hasn't resolved.
These issues continue to grow as variants of the virus spread and ports continue to face labor shortages. A prime example is the closures at both the Yantian and Ningbo ports earlier this year due to Covid outbreaks. The more closures the industry faces, the more container backlog can be expected.
Lunar New Year
In 2021, Lunar New Year was celebrated from February 12-17. Though export levels had started rising by this time, this annual event reduced the momentum that had been gained and created additional delays at ports and manufacturing facilities.
Blockage in the Suez Canal
The Suez Canal, one of the world's largest shipping routes, was blocked in both directions from March 23-29 by a 400-meter-long container vessel that got wedged across it. This obstruction delayed delivery of the 18,300 containers on the vessel, the nearly 400 ships that were waiting to pass through the canal, and the vessels that chose to avoid the canal and reroute around Africa's Cape of Good Hope.
Spot market rate increases
On June 1, 2021, a large peak season surcharge (PSS) and a general rate increase (GRI) went into effect — driving up freight-all-kinds (FAK)/spot market rates. And because some ocean carriers are reducing the amount of FAK space available, capacity for spot shipments is even harder to come by.
Capacity challenges in other modes
Along with the global container shortage, other transportation modes are also experiencing extremely tight capacity. In the full truckload market, for example, class 8 trucks are at 100% utilization, and significant relief isn't expected any time soon. Warehouse space is also limited, which means more containers are staying on chassis, and those containers are staying loaded longer. Read more about what's happening in the truckload market.
The industry's response
Each event described above would likely have been enough to cause issues with container supply and demand, but the combination of events has caused unprecedented congestion levels. The congestion in California leads to more canceled voyages since ships can't get back to Asia in time to load cargo. So even as U.S. import demand soars, the capacity available in the trans-Pacific trade is being severely reduced by voyage cancellations. For importers, that means even longer delays, even higher all-in freight rates and a cap on how much can be shipped at any price.
As we finish out the year, global supply chains will have more challenges to overcome. Trans-Pacific rates and blank sailings are expected to continue increasing, and the energy crisis in China is likely to have lasting impact.
What's going on in China?
While China has struggled in the past with electricity supply, the current high demand for factory-produced goods has led to massive energy consumption that cannot be maintained. As this continues, wide-spread power outages are frequently occurring across the country.
To combat these outages, the government is strictly controlling electricity prices and usage, and the cost of coal (which China relies on for nearly half its power) is increasing to help offset the high demand. These price-hikes have caused many factories to either shut down completely or severely limit their production due to lack of electricity and to avoid operating at a loss. High-energy factories such as those that produce steel, aluminum and cement are being especially impacted.
These energy concerns have created additional delays for companies that rely on goods from factories in China. And with winter approaching, the added need for power to provide heat could cause further complications.
Massive delays are also occurring in China, as hundreds of container vessels are at anchor waiting for a berth spot at one of their base ports to discharge and load containers. The most congested ports are Shanghai and Ningbo.
Steps shippers can take to remain competitive
Even with these service and capacity issues, there are some ways to keep your freight moving:
Create a plan as soon as possible
The most critical thing to note this year is that current capacity is not enough to handle all U.S. imports in containers. The more lead time you can provide, the better the chances of getting freight on a vessel. It also makes it easier to come up with contingency plans for both the international and domestic portions of the shipment. Being clear about upcoming freight needs will help you and your provider set clear expectations and secure the right capacity.
Continue working with your trusted partner
Because capacity issues are industry-wide, switching providers isn't necessarily the best way to get faster service. Instead, it's recommended that you communicate with your current partner and work with them to get your freight moving with realistic expectations. This will ensure you're receiving service at the appropriate time rather than risking further delays with a provider you don't have an established relationship with. You may also want to ask about premium-priority or guaranteed services — many providers are offering special programs for their customers during this time to better prioritize freight.
Be open to other solutions
Depending on the situation, shifting modes may be the best solution for your freight. In many cases, dividing a full-container-load (FCL) shipment into multiple less-than-container-load (LCL) shipments can improve chances of finding capacity in the current market. This will allow portions of your freight to start moving, which may be preferable to waiting for an entire container to become available.
Air freight is another option for critical shipments that haven't made it onto a vessel. Transit times are much faster compared to ocean, though it's important to note that not all freight can travel via air. Talk with your logistics partner about your options.
Stay up to date with ArcBest insights
Managing an effective global supply chain requires an innovative approach and informed decision making. Our team is here to help with both. We'll work with you to prepare and execute a strategy that enables you to meet customer demands and we'll help you stay informed on what's happening in the industry so you can implement contingency plans when necessary. Check the ArcBest blog for our latest insights and advice. Or explore our international service to see what supply chain problems we can help you solve.