Maritime Market Report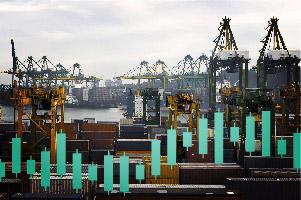 March 2022 ocean capacity update
While 2021 has come to an end, many of the challenges it presented international supply chains haven't been resolved — and some, like vessel capacity constraints and the global container shortage, are getting more complicated. Though the number of vessels waiting at U.S. ports is beginning to recede, congestion is still at record-high levels. And with increased blank sailings, poor on-time performance and the ongoing shortage of chassis, trucks and drivers, relief isn't expected any time soon. 
Quick numbers:
35: The percentage of weekly ocean capacity from Asia to the West Coast that's unavailable due to blank sailings.
90: The percentage of sailings from Asia to the West Coast that aren't arriving on time.
100-110: The number of days (on average) it takes for shipments since cargo ready date to the arrival date to their port of discharge.
5x: The amount container rates have increased from mid-2020.
With container rates rising and goods taking longer to deliver, importers need to be aware of how the market may be impacted in coming months and what actions they can take now to prepare for the rest of the year.
Upcoming events that may impact the market
Though the market is already facing complications, certain events could bring further disruption. These events are ongoing and subject to change.
Ocean contract renewals
The contracts that were negotiated last year expire after May 1, and early negotiations indicate rates will increase. And with ocean lines continuing to issue blank sailings to try to mitigate delays, it's expected that less space will be guaranteed in the new contracts. These capacity issues will likely lead to higher spot rates to help offset demand.
Longshore labor negotiations
The International Longshore & Warehouse Union (ILWU) and the Pacific Maritime Association (PMA) will negotiate a new contract in early 2022 before the current contract expires on July 1. Depending on how negotiations go, there could be significant changes in port operations, even if just for a short time.
Russia-Ukraine war
The ongoing conflict in Ukraine could also impact the maritime market through vessel delays or changes in European freight volumes. Importers should work with their logistics providers to discuss current conditions and plan accordingly.  
New COVID-19 outbreak in China
Congestion at Chinese ports surged over the past week as several Chinese cities issued lockdowns that affected productivity at main ports.
Shenzhen came out of a seven-day lockdown on March 22, and while its port workers were allowed to work for the duration of the shutdown, limited trucking and warehousing availability has created some supply chain issues. With ships backing up along the nation's coastline and carriers changing schedules to avoid growing congestion issues, vessel waiting times are expected to increase in Shenzhen.
Elsewhere, Covid case increases are causing port pressures at key gateways including Qingdao, Shanghai and Ningbo-Zhoushan. China locked down the city of Shenyang on March 22, and China's financial hub, Shanghai, reported a record surge in daily local cases on March 23. Health authorities reported 4,770 new infections across the country March 22 — forcing many areas into lockdown as part of Beijing's ongoing strict zero Covid strategy.
The congestion issue brought about by this latest Covid surge in China is not just affecting container operations. Chinese factory productivity is also getting lower as workers are getting sick, and there's increased risk of having a shortage of drivers to haul containers to the ports.
Tips for keeping your global supply chain moving
Don't wait to ship
It's important to understand that current capacity is not enough to handle all projected U.S. imports in containers. And the more capacity gets constrained, the more delays may happen. To improve the chances of freight getting on a vessel and arriving in time, ship it as soon as possible. Though that may mean receiving items well before they're needed, it might be better to pay for domestic warehouse space rather than risk the freight getting delayed. Be as clear as possible about upcoming freight needs to help your provider secure the right capacity.
Consider another transportation option
Depending on the situation, shifting modes may be the best solution for your freight. In many cases, dividing a full-container-load (FCL) shipment into multiple less-than-container-load (LCL) shipments can improve chances of finding capacity in the current market. This will allow portions of your freight to start moving, which may be preferable to waiting for an entire container to become available.
Air freight is another option for critical shipments that haven't made it onto a vessel. Transit times are much faster compared to ocean, though it's important to note that not all freight can travel via air. Talk with your logistics partner about your options.
Continue working with your trusted partner
Because capacity issues are industry-wide, switching providers isn't necessarily the best way to get faster service. Instead, it's recommended that you communicate with your current partner and work with them to get your freight moving with realistic expectations. This will ensure you're receiving service at the appropriate time rather than risking further delays with a provider you don't have an established relationship with. You may also want to ask about premium-priority or guaranteed services — many providers are offering special programs for their customers during this time to better prioritize freight.
Rely on ArcBest for international shipping expertise
Managing an effective global supply chain requires an innovative approach and informed decision making. Our team is here to help you prepare and execute a strategy that enables you to meet customer demands. And our market updates can help you stay informed about what's happening in the industry. Check the ArcBest blog for our latest insights and expert advice. Or learn about our international service to see what supply chain problems we can help you solve.