Maritime Market Report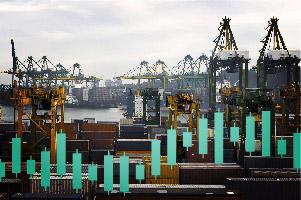 FOR INFORMATIONAL PURPOSES ONLY: The information included in this article is intended for informational purposes only. Due to the unpredictability of the market, some of the information may be dated and may not reflect the most current developments. 
A look at mid-year ocean capacity 
Peak importing season traditionally starts in mid to late June, as retailers prepare for back-to-school and holiday shopping seasons. Earlier this year, many expected this period to cause additional strain on vessel and container space due to the typical surge in freight volumes. However, this surge didn't happen as expected in June, and July also started softer than many in the industry believed it would. This means — as of the date of posting — there is container space available and ocean shipping rates are even beginning to drop for some trade lanes.  
Though the last few years have made it very clear that the market can change at any time, there are a few potential reasons why freight volumes were lower than they were forecasted to be. But there are also other factors to watch when planning your upcoming shipments. Importers should work with their logistics providers to discuss current conditions and plan accordingly.   
What's impacting the maritime market?
Though vessel space isn't currently as tight as it has been in recent months, importers need to be aware of why that may be happening and how the market may be impacted in the coming months.
Reduced demand for household goods
Freight moving on the TBED (Trans-Pacific East Bound) trade lane largely consists of household commodities like furniture and décor. With inflation rising, many stores dealing with overstock issues, and people spending less on goods, these items don't appear to be in as much demand as they have been in recent years. This could be one reason why there's currently more vessel space available than experts predicted there would be at this point of the year. However, if demand returns, capacity could get tight again.
Lockdowns in China
Because China has strict measures in place to keep Covid levels from rising, lockdowns can occur with little warning. When these take effect, temporary factory closings, reduced transportation from factories to the ports, and decreased factory productivity caused by sick workers can cause lower export volumes. This reduction could make it easier to find space, but as we saw last year, extended or frequent lockdowns could lead to containers being halted at ports, and shipping lines may issue mass blank sailings to help offset costs.
Russia-Ukraine war  
The ongoing conflict in Ukraine could lead to future vessel delays. As the situation progresses, changes in consumer demand could also lead to changes in European freight volumes.
Backlog at ports
Near the beginning of the global pandemic, the Port of Long Beach made headlines with the record number of vessels waiting to unload containers. This backlog led many importers and their logistics partners to route shipments through other U.S. ports — mainly on the east coast. Now, those east coast ports are experiencing delays while vessels are flowing more smoothly through west coast ports (though volumes remain high). 
Rebalancing the normal flow of containers can take some time and may lead to additional issues if freight volumes increase further.   
What is ArcBest doing to assist customers?
Our priority is to help minimize disruptions to your supply chain — no matter how the market changes over time. Throughout the last few years, we've taken actions including: 
Adding contracted carriers and out-of-network carriers to offer more capacity 
Working to provide pricing with multiple carrier options to offer the best rate for each shipment 
Collaborating on monthly forecasting to better allocate weekly space with our carriers 
Adding Premium-Priority Services and Guaranteed services (when available) 
We'll continue to work with our contracted carriers to reduce the impact of industry issues and allow you to ship your cargo as needed. For more information about how ArcBest can help with international freight, please contact your account manager.