September Market Update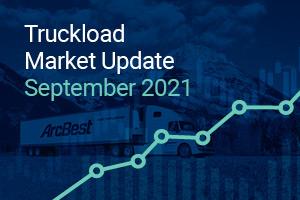 Supply chain constraints: Is relief on the way?
For the past 12+ months, shippers and consumers have dealt with what feels like a never-ending stream of product shortages, capacity constraints, high shipping costs and increased delivery times. At a basic level, these issues are the result of significantly increased demand — caused by consumer spending during the pandemic largely shifting from services to goods — and significantly decreased supply due to shortages of input materials, trucks, trailers, and shipping containers. For this month's market update, we'll take a deeper dive into the factors that continue to constrain the supply side of the market and look at when the market might start to experience some relief.
Current situation
Right now, there is simply not enough capacity to handle all the demand in the market. Look, for example, at the graph below from BMO Transportation Finance that shows the utilization rate of class 8 trucks. Notice that the current utilization rate is 100% of all seated class 8 trucks and is expected to remain there for most of the rest of the year. There is a similar situation occurring with trailers.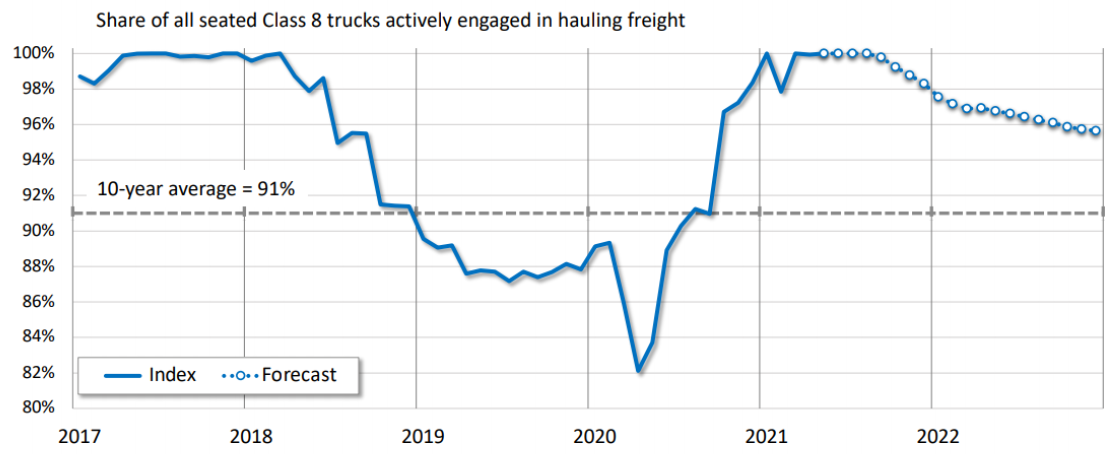 Shipping containers are also in short supply due to multiple factors. As is the case with trucks and trailers, shortages of input materials are significantly impeding the production of new containers. While new containers are slow to appear, complications from the Covid-19 pandemic are exacerbating the shortage of containers by slowing the process of loading and unloading container ships at the ports so that they can be ready for the next shipment. Port slowdowns and shutdowns due to Covid-19 have caused massive traffic jams of container ships — each holding thousands of containers that can't be moved. There are currently more than 60 ships waiting off the coast of California to be able to dock and unload, which is the highest amount ever.
Looking ahead
So, when can the supply chain expect some relief? As mentioned, the market is experiencing shortages in a multitude of input materials. One example of this would be the ongoing shortage of semi-conductor chips that has crippled the automotive market. Not only has this made it incredibly difficult for automotive manufacturers to keep up with demand for passenger cars, it has also made it incredibly difficult to produce new class 8 trucks to help with capacity constraints.
If you take another look at the class 8 utilization graph above, you'll notice the forecast moves away from 100% and down to about 98% by the end of 2021 on the expectation that some new trucks will start to be delivered during Q4 2021. The utilization rate continues to decline to approximately 96% by the end of 2022 as additional truck deliveries during 2022 help increase capacity. However, the utilization rate will still be well above the 10-year average of 91% and capacity is likely to remain tight, although not as tight as we're currently experiencing now.
On the trailer side, shortages of inputs such as steel continue to hinder production. The FRED graph below of steel prices gives a quick view of the shock the market has experienced since the onset of the pandemic. Currently the expectations for new trailers are similar to that of trucks. The market might see some deliveries in late 2021, but more deliveries are expected in 2022 (although still not enough to meet demand).

Shipping containers have the most difficult road ahead. While the number of ships waiting to dock is at an all-time high, many believe it is still likely to get much worse before it gets better. As we move into the holiday season, the backlog of ships is likely to increase even further with few options for relief. Just like trucks and trailers, new shipping containers are being ordered but manufacturing them has proven to be difficult. Some containers will be delivered in 2022, but most forecasts don't expect any significant relief for the shortage of shipping containers until 2023.
To sum it up, some relief is on the way but it's going to be a long and gradual process. There are a lot of unknowns and difficulties in the market right now, but no matter what the future holds, the team at ArcBest is committed to delivering exceptional service. With a combination of advanced supply chain technology and an experienced customer solutions team, we're equipped to find ways to solve even the toughest logistics problems. Learn more about ArcBest solutions