Shipping to Canada FAQs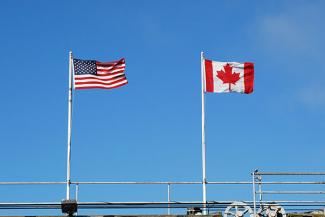 Shipping freight between Canada and the United States
In 2016, the United States-Canada trade market exceeded $600 billion, making Canada the United States' second-largest trade partner after China. Though trade between these two North American giants is common, for those new to international shipping, the process can seem overwhelming. With regulations to follow and documentation to complete, shippers have a lot to consider. That's why using a company like ArcBest®, with cross-border shipping certification and relationships with trusted customs brokers, is crucial. We're positioned to make shipping to and from Canada easier and more efficient. Our Canadian specialists are trained to help customers from beginning to end, working to ensure your freight moves seamlessly. Learn more about how ArcBest can assist with your Canada shipping needs.
Canada shipping FAQs
How does the process of shipping freight to and from Canada work?
Depending on the type of freight, where it's going and what carrier you're using, the process can vary. The first steps are to select a carrier and contact a customs broker. Then, ensure the freight is packaged properly, prepare the bill of lading and complete all required customs documents. Once the shipment is picked up, it's consolidated with other freight moving in the same direction, or if it's a truckload shipment, it may travel directly to the border.

During transit, the carrier sends the shipping documents to the customs broker, who then transmits the information electronically to either the Canada Border Service Agency (CBSA) and Canada Revenue Agency (CRA), or the U.S. Customs and Border Protection (CBP). This allows customs to review the entry details before the freight arrives at the border. If everything is approved, customs will immediately release the cargo for entry when the carrier arrives at the border. This streamlines the border crossing and clearance process, allowing ArcBest to deliver your cargo on time.
How does ArcBest simplify international shipping?
ArcBest LTL carrier ABF Freight® has operated in and out of Canada for 45 years, providing the experience, paperwork and contacts necessary for full customs compliance. Whether you need less-than-truckload (LTL), truckload, expedite or time-critical solutions, we've got you covered. Through our network of service centers, we can provide coast-to-coast service in six provinces and 14 major cities. We also offer end-to-end visibility and 24/7 online tracking, so you know what's happening each step of the way. 
What are my delivery options?
ArcBest offers ground transportation options via our LTL carrier ABF Freight, our expedite service Panther Premium Logistics® and a large network of truckload providers. No matter what type of freight you're shipping or where you're shipping, We'll Find a Way. 

We also provide intermodal shipping in some locations and air freight services within Canada. For more information about which delivery option works for you, please contact customer support at 800-610-5544.
What is a customs broker?
Customs brokers are private individuals or companies authorized by the CBSA and the CBP to help shippers import or export their freight. They make international trade easier because they know which forms are necessary for entry and which regulations apply. Over the years, ArcBest has built strong relationships with trustworthy and licensed customs brokers. We refer our customers to these brokers to help ensure their goods move across the border quickly and safely.
Our Customs Support team makes getting set up with a broker easy. Simply reach out to Customs@arcb.com, and we will facilitate the account setup with our partnered brokerages. It's recommended that a brokerage account be in place prior to shipping to avoid delays. Our partnered brokerages allow you to obtain a web quote in advance to avoid surprises or unexpected costs when shipping with ArcBest. These brokerages also can provide legal advice regarding customs business, such as required licenses or permits.
What documents do I need?
The commodity you're shipping and its value will determine which documents are necessary. The most common forms include: 
When shipping from the U.S. to Canada:
Canadian Customs Invoice (If over $1,600 Canadian)
NAFTA Certificate of Origin
Commercial Invoice (If under $1,600)
Shipment Passport
 
When shipping from Canada to the U.S.:
U.S. Customs Invoice
NAFTA Certificate of Origin
 
You can access these forms (and others) with our document retrieval tool. Learn more about the NAFTA Certificate of Origin.
What is the Pre-Arrival Reviews System (PARS)?
The Pre-Arrival Reviews System (PARS) allows your customs broker to submit official documents to the CBSA for processing before the shipment arrives in Canada. It helps prevent border congestion and keeps freight flowing. Once the freight arrives, it's immediately allowed entrance. The only exception is if the freight needs further examination to meet other government regulations. The PARS number is the carrier code, the word PARS, and the PRO number for the shipment (e.g. 2604PARSXXXXXXXXX). To avoid delays, it is very important that the correct documentation and PARS number be sent to the customs broker in advance of border crossing. 

Note: The Pre-Arrival Processing System (PAPS) is the U.S. version of this system and works similarly to PARS.
How much does it cost to ship to Canada?
A variety of factors determine how much it costs to ship freight to Canada. Things like commodity, origin, destination and what equipment is needed can all affect the price. See how much your cross-border shipment will cost by getting an online quote.
How long will it take to ship my freight to Canada?
Transit times vary based on origin and destination. Some shipments may arrive in a day, while others may take a few days. You can use our transit time calculator to get an estimated arrival date. Keep in mind that if you don't have the proper paperwork, your shipment could sit at the border. For any questions concerning your paperwork, please contact your customs broker.
What happens if my freight gets stuck at the border?
Inaccurate or missing documents will result in shipments not clearing customs at the border. It is important to note that Canada and the U.S. handle cross-border shipments differently. A shipment moving from the U.S. to Canada that does not clear customs will move in-bond to one of our bonded warehouses. It will be held until clearance, or until it is inspected by Canada Customs. This process allows ABF Freight to deliver all cleared shipments while only holding those that have not cleared. A Canada to U.S. shipment must have a certified customs entry or authorized in-bond movement before entering the United States. If an uncertified or unauthorized shipment is on a trailer, it will be held at the border until the issue is resolved. To prevent customs delays, be sure to:
Note the customs broker on the paperwork
Complete customs documentation properly, noting the value of the goods, country of origin, the importer of record and exporting party
Work with a licensed and certified carrier
 
What is a NMFC number?
National Motor Freight Classification® (NMFC) identifies the commodity you're transporting and is used by carriers to determine shipping rates. The National Motor Freight Traffic Association (NMFTA) created this system to make LTL shipping easier and to establish standard pricing for all kinds of freight. Classes range from 50 to 500, and goods are categorized based on density, handling, stowability and liability. Use this lookup tool to find the NMFC for your freight.
What is NAFTA (North American Free Trade Agreement)?
The NAFTA agreement is a treaty between the United States, Canada and Mexico to make international trade easier. Since 1994, the NAFTA agreement has improved international trade by:
Granting equal treatment for investors
Eliminating tariffs on imports and exports
Resolving trade disputes
Allowing business travelers easy access between all three countries
Increasing economic growth
 
Can ArcBest move household goods to or from Canada?
Yes! ArcBest offers self-moving options through U-Pack® (including Personally Procured Moves for military) and full-service corporate moving options.   
Have more questions?
Transporting freight between the U.S. and Canada is different for every shipper. That's why it's important to work with a certified carrier who understands the process. If you have additional questions about shipping to Canada, please contact our Customs Support team at 800-443-0203 or customs@arcb.com.
Additional Canada Shipping Resources:
Why Carrier Certifications Matter When Shipping to Canada
How Some U.S. Companies Fail at Canadian Shipping
How Brokerage Services Can Simplify Clearing Canadian Customs
What is Canadian Customs Compliance?