Celebrating Truck Driver Appreciation Week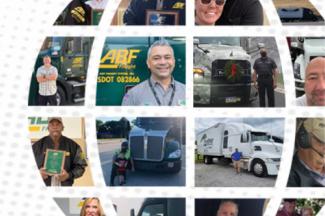 Recognizing the men and women who keep America moving
National Truck Driver Appreciation Week — celebrated this year from Sept. 11-17 — helps recognize the vitally important role of our nation's 3.6 million truck drivers. Learn more about this event and find out how you can join ArcBest® in honoring drivers for all they do. 
How Truck Driver Appreciation Week began 
The American Trucking Associations credits former ATA chairman Don Bowman with the idea of Truck Driver Appreciation Week. He proposed setting aside a week each year to spread public awareness about the role truck drivers play in our everyday lives and to give them the respect they deserve. The event was officially launched in 1998, and its reach has grown with each passing year. 
Why it's important to celebrate drivers 
Drivers are charged with delivering each shipment safely, securely and on time. That often means they must spend long stretches away from their families while also navigating challenges, from inclement weather to a global pandemic.  
Still wondering how important truck drivers are? Consider these facts: 
80 percent of U.S. communities depend exclusively on trucks to deliver goods 
Nearly half of all products (consumer and home goods, electronics, etc.) are moved in dry vans 
Truck drivers safely transport over 10 billion tons of goods every year 
Trucking accounts for 70 percent of the total annual freight moved in the U.S. 
A typical professional truck driver logs more than 112,000 miles per year – the equivalent of almost four trips around the equator! 
6 ways to show appreciation for drivers
Being a professional truck driver is a tough job that requires dedication and perseverance. Simple gestures like these can help boost morale while leaving a lasting impression. 
Express your gratitude in person 
Whether it's through our jobs or during our daily travels, most of us are presented with regular opportunities to interact with professional drivers. Use these brief moments to speak with them, ask how their day is going and simply say "thank you."  
Use social media to share your message 
According to a recent study, more than 60 percent of truck drivers use Facebook, which means sharing a positive post could make a big impact. Whichever social media platform you use, try widening your reach by using the hashtags #NTDAW2022 and #ThankATrucker. 
Make a sign  
Grab some poster board and markers and get your children to help, then have them pose for pictures with the sign and post the creations on social media (don't forget to add those hashtags for maximum exposure). Then, display it all week, anywhere that's visible to drivers. 
Cover their bill  
Consider paying for a driver's meal or coffee if you're waiting in line together.  
Want to support businesses that value drivers? These retailers offer special promotions for truck drivers throughout this week. 
Put a care package together 
A package filled with practical goodies like snacks, hand sanitizers, drinks, T-shirts, multi-use tools and flashlights is a great way to show thanks. 
Practice safe driving  
Large trucks require greater stopping distance and more space to maneuver in traffic, so make sure you're patient and courteous, and give them plenty of room. Learn more about how cars and semi-trucks can safely share the road. 
ArcBest joins a nationwide celebration 
ArcBest will host celebrations across the nation to honor the drivers who provide our customers with industry-leading service. Activities will include cookouts, giveaways and multimedia recognition.  
How will you participate? Whatever you choose, please remember to show your appreciation for these hard-working men and women during their special week!