Celebrating Truck Driver Appreciation Week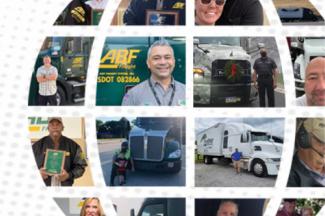 Annual event shines light on unsung heroes
Having quick and easy access to almost everything we want and need is something we often take for granted. That's why it's important to recognize the 3.5 million professionals across the U.S. who move our world forward by delivering the products we use every day. Join ArcBest Sept. 12-18 in celebration of National Truck Driver Appreciation Week. Learn why it matters, how you can show your support and what ArcBest is doing to recognize drivers.
Why Truck Driver Appreciation Week matters
Founded in 1998 by the American Trucking Associations, National Truck Driver Appreciation Week highlights how critical trucking is to our nation's economy. Whether it's business as usual or navigating extraordinary challenges — from natural disasters to a global pandemic — truck drivers are on the front lines, delivering essential freight safely, securely and on time.
Here are a few facts that show just how important truck drivers are to our lives:
A typical professional truck driver logs more than 112,000 miles per year, which equals almost four trips around the equator

Truck drivers safely transport over 10 billion tons of goods every year

Trucking accounts for 70% of the total annual freight in the U.S.

Nearly half of all products (consumer and home goods, electronics, etc.) are moved in dry vans

80% of U.S. communities depend solely on trucks to deliver goods
Simple ways you can thank truck drivers
Being a professional truck driver requires skill, dedication and sacrifice. Many drivers spend long stretches of time away from their families to make sure others have what they need.
Here are some small gestures you can make to help show your appreciation:
Share support on social media
More than 60% of truck drivers use Facebook, according to a recent study. That makes it easy to form a virtual connection with a positive post. Whichever social media platform you use, reach as many drivers as possible by using the hashtags #ThankATrucker and #NTDAW2021.
Practice good road awareness
Be patient and courteous while sharing the road with truck drivers. Large trucks need more room to stop and more space to maneuver in traffic. Make sure you're visible to them and leave plenty of room.
Assemble a care package
A basket filled with things like gift cards, drinks, snacks, hand sanitizers, T-shirts, gloves, flashlights, multi-use tools, backpacks and other practical items can help a driver feel appreciated.
Show signs of support
Make a sign with poster board to thank drivers. Get creative and involve your children. Have them pose for pictures with the sign and post them on social media (don't forget those hashtags). Then, display it all week, anywhere that's visible to drivers.
Pick up the tab
Consider paying for a driver's meal or coffee if you're waiting in line together at a truck stop or restaurant.
Recognition from ArcBest® and beyond
This year, ArcBest® proudly continues its tradition of hosting Truck Driver Appreciation Week celebrations to show continued appreciation for the network of drivers who provide their vital services. Activities will include cookouts, giveaways and service recognition through social channels and company newsletters. Drivers can also take part in special discounts and promotions retailers will be offering nationwide.
What do you appreciate most about truck drivers? Use this week as an opportunity to let them know!