Complete Guide to Issuing an RFP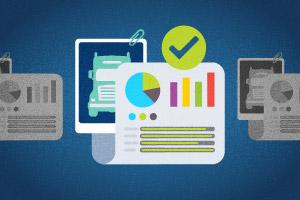 Build strong logistics partnerships with a request for proposal (RFP)
When you run a complex business, you need shipping partners with the skills to handle the unique demands of your supply chain. But when it comes to comparing potential partners, how can you be sure you're awarding business to a company with the demonstrated experience to meet your needs, fit your budget and understand the most critical aspects of your supply chain?
A request for proposal (RFP) — sometimes called a request for quotation (RFQ) — is the place to start. It's a formal way to easily compare and negotiate rates and services from new and current carriers. An RFP isn't a binding shipping agreement, but the details and research included in the process can help you set clear shipping expectations and preview the final contract so everyone is on the same page when pen meets paper.
When to submit an RFP
Knowing the strengths and capabilities of your carriers is always important, but whether you need an RFP depends on if you're sourcing a long-term partnership or a short-term transaction. Since an RFP can be an intensive process, it's best for long-term projects (1-3 years). This will make carriers more likely to respond to your RFP since they'll be able to contract your business for a certain period, and it adds consistency to your supply chain since you'll have rates and capacity secured in advance.
Understanding an RFP: the parts and process
Because every business has different needs, the structure and process of an RFP can vary. However, knowing the general procedure can make conducting an RFP easier for you and your potential partners:
Planning — fact-finding, identifying and shortlisting candidates.
Creation — composing the document.
Invitation — sending the RFP out to your pool of potential bidders.
Evaluation — analyzing submissions based on how well each one meets your goals and budget.
Negotiation — reaching an agreement on rates and terms with your remaining bidders.
Reevaluation/decision — considering the new rate agreements and deciding on a carrier.
Notification — informing your chosen carrier or carriers of your decision.
Implementation — beginning your new partnership by signing contracts and onboarding.
Planning an RFP
Creating an effective RFP depends on a comprehensive planning process that lets you ask the right questions, highlight the right information, and establish a solid team and metrics to help you evaluate your proposals. Here are some key steps to take during the planning stage:
Assemble your team
A successful RFP is one that's composed and executed by a group of experts with their own specific roles. Start by enlisting your business stakeholders and dividing the labor to ensure you're giving a complete picture of your operations when you communicate your goals to potential shipping partners. The key players in a successful RFP are:
The main team — this is the group that will be responsible for the main body and introduction of your RFP. It should be a cross-departmental group with deep knowledge of various aspects of your supply chain, including vendor expectations, specific departmental goals and stakeholder priorities.
Point of contact — this is who your candidates will contact if they have questions on any aspect of the process. They should have good knowledge of your business goals and be able to respond quickly when questions or concerns come up.
Evaluators — this is the group that will read the RFP responses and determine who meets your targets and requirements.
Research and discovery
The research stage is where the knowledge of your main team comes into play. During this stage, you'll collect, analyze and compile key information about your shipping lanes and freight facilities, identify specific needs and determine what targets your shipping partners should hit to help you meet your goals. Generally, you'll want to collect shipment data for at least the past 3 months, but a full year of shipping information is preferred. Here are a few questions to consider during this stage of the process:
In what ways do you want to make your supply chain more efficient?

In what ways do you want your supply chain to better serve your customers?

Are you shipping to facilities — like major retailers — with strict delivery demands?

What are your stakeholder goals, and how can your supply chain help you meet them?

What, if any, are your specific cost-saving goals?

Do you have special requirements like after-hours or weekend pickups?

What technologies and capabilities do you require?

Will your current shipping partners be given special consideration for bids?

Will you only partner with carriers that have their own equipment?

Are you shipping goods that require specific carrier certifications?
Set mandatory requirements
Once you've answered the essential questions in the research and fact-finding stage, you can use your findings to determine the minimum mandatory requirements for the project or business segment your RFP addresses. Defining these requirements helps focus your goals internally and creates a helpful checklist to evaluate bids as you receive them.
Consider creating a request for information
A request for information (RFI) is an optional but recommended step in the fact-finding process. It's a query document that asks for specific information from carriers on their capabilities to determine if they're a good fit for your freight and business goals. This ensures the RFP goes only to carriers who can meet your most basic requirements and provide the best business relationship.

Suggested Read: Characteristics to look for in an FTL provider
Define the process
Once you're ready to move forward with an RFP, you'll need to set expectations around the process. Since no two shippers have identical operations, an RFP can have several stages, different rounds of consideration and various timelines. Carriers will likely have several bids to submit to different companies, and you'll have bids to evaluate from multiple carriers. This is why transparency about the process and timeline can be beneficial to bidders and your team. To keep everyone informed and on track, make sure you've lined out these key dates:
Bid opening date — The date you'll start accepting RFP submissions.
Deadline for questions — An optional deadline that can help you manage how and when you receive questions about the RFP. You may also consider scheduling an informational call to serve this same purpose.
Deadline for first rate submission — The date for proposals to be submitted. In a single-round RFP process, this is the only rate submission, and it's immediately followed by final negotiations.
Feedback deadline — In a multi-round RFP, this is a stage to let carriers know how they're competing, and what lanes they might be projected to win. This step can also lead to more competitive rates in the second round.
Deadline for final negotiations — The date that new rate submissions are due for the second round of considerations.
Selection date — The date you will notify your selected carrier that they've received your business.
Contract start date — The date your chosen carrier will start covering the loads.
Composing the RFP
After you've completed the planning stages and have a full picture of what you need from your shipping partners, the next step is bringing it all together. The final format and organization are up to you, but you'll want to give careful attention to the layout and content to make sure they're both clear and purposeful.
Structure and format
You can create your document in Excel, Microsoft Word, or as a PDF file, but you should keep two specific groups in mind when deciding which format to use: the carriers submitting bids and your team evaluating them. You want to make sure you create a simple, easy-to-follow structure that makes your goals clear and allows your company to easily reference and compare responses. Consider how you can use tables, bullets and headers to make information easy to reference. You can also set specific formatting requirements (file type, length, etc.) for your responses.
Introduction
The RFP introduction is where you let carriers know the most important aspects of your business. This is where you'll preview your specific needs and shipping issues so that carriers get a full overview of how they can serve you. You'll want to include your company's location, current shipping expenses and savings goals.
Core qualification questionnaire
If you opted not to create an RFI, it's a good idea to include a questionnaire near the start of the RFP so you can quickly identify your strongest candidates. Ask direct questions about how carriers can meet your specific needs to choose which carriers move on to the next round of bidding.
Body
The body is your space to expand and emphasize what you previewed in your introduction, and it will do most of the work in your RFP. In addition to the types of goods you ship, it should include all the relevant details on your lanes — shipping patterns, volumes and frequency from the last 3-12 months. Including highly detailed, raw shipment-level data helps carriers understand the freight profile and mix. The more data you provide, the more accurate your pricing proposals will be. Essential historical shipping information would be:
Shipping dates

Origin and destination zip codes

Number of pieces in each shipment

Commodity type/shipment class

Special services associated with each shipment

Shipment weight

Shipper and consignee information

Density or Cube information
Since the body will probably be the longest part of your document, consider adding sub-sections to focus on subjects like costs, equipment or specific certifications. If your freight has special packaging requirements, adding pictures can help carriers better grasp how it needs to be handled. And if your shipping facilities have special directions or policies, include a descriptive facility profile as well.
Evaluating and negotiating: get the right carrier at the right price
Evaluating your bids and negotiating costs with carriers are two essential parts of the process, and in a multi-round RFP, they can be repeated as needed to make sure you get the tailored service and costs you need.
Evaluation
Whether you start with an RFI or a core qualification questionnaire, assessing your essential business requirements will be the first step in evaluating bids. Once you've determined which carriers meet your minimum requirements, you can assess the full submissions. One way to evaluate responses is to weight each section out of 100% and rate them from 0-10 on how closely the solution and proposed service are tailored to your needs. No matter how you evaluate proposals, creating a simple and reliable metric can help you make the evaluation process objective and efficient.
During the evaluation process, you may find opportunities to strengthen your supply chain by relaxing some of your bid requirements. In these instances, your main team and your evaluators should discuss the risks and opportunities if you make changes to your evaluation and selection criteria.
Negotiation
However you decide to negotiate — over the phone or through electronically submitted proposals — you'll want to ensure you're ready for the give and take of the process. Some carriers will only accept awards that meet a minimum volume amount, which can vary depending on the carrier and the market.
Keeping your cost-saving and business goals in mind, are you willing to award more lanes to a carrier with higher volume requirements? Will you pay more for a carrier that can offer additional services and conveniences? What is the highest amount you would pay while still meeting your savings goals? Answering these questions in advance can help you negotiate for the best overall value.
Implementation: beginning your new shipping partnership
The final stage of the RFP process involves onboarding with new carriers and signing contracts. Depending on your technology requirements, onboarding may include digital integrations within a carrier's system to make sure your loads are covered just as described. Every carrier will have a different onboarding process, so be sure to get the details as you finalize your carrier choice.
RFP Writing Recap: The ultimate RFP checklist
Here's a checklist to make sure you're including all the information you need to create a comprehensive RFP:
3-12 months of detailed shipping data

Rate format

RFI/Core qualification questionnaire

Technology requirements

Required certifications

Key dates and deadlines

Equipment requirements

Facility profiles

Contract term length

Evaluation criteria
Create the shipping partnership you need with ArcBest
Building lasting and trusted shipping relationships takes time and research, but it doesn't have to be a hassle. With ArcBest, you'll gain access to our owned assets and network of more than 40,000 carriers. And, with our managed transportation solution, our expert team can handle the RFP process from start to finish to make sure you're getting the service you need. Learn more about how ArcBest can partner with you for your logistics needs.