E-Commerce Order Fulfillment: How the Supply Chain has Evolved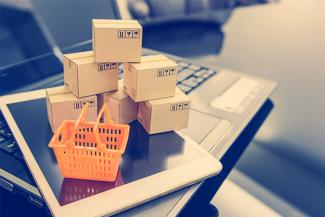 Fulfilling online orders and meeting consumer demand
We've all done it — researched a product we wanted to buy, read some reviews, selected an item, put it in our cart, and provided our payment information. We may have even paid extra for faster shipping. When we finished, we closed the tab (or the app) and waited for the product to arrive. It's a simple process that most of us do regularly, but any e-commerce retailer knows that getting a customer to click the "buy" button is only half the work. Now it's time to fulfill the order and get the product where it needs to be.
What is order fulfillment?
Order fulfillment is every step a business takes to get a product to a customer. This includes receiving notice of the order, handling the payment, managing inventory and processing returns. While never a simple matter, fulfilment processes have been transformed in recent years with the growth of the e-commerce industry. In the past, businesses simply had to worry about keeping products on the shelves, but now they also have to think about getting products to customers who never enter a store.
Understanding the omni-channel order fulfillment process
As the shift to an omni-channel method (the seamless, constant flow of goods between all sales channels) gains momentum, businesses are developing new strategies to meet customer needs. These strategies involve multiple parts of the supply chain — from warehouse locations to shipping routes.
Efficient warehouse management
Because customers no longer make a distinction from buying an item online to buying it in a store, retailers are reshaping their fulfillment strategies to allow customers to find, buy, receive and return merchandise using whatever method they prefer. Through efficient warehouse management and product inventory solutions, retailers can streamline their cross-channel fulfillment practices. Some retailers with both physical locations and online stores have begun building a network of regional fulfillment centers that transport items either directly to a customer's home or to stores in the area to replenish stock. Other methods include using brick-and-mortar stores to fulfill online orders and offering in-store pick-up for online orders (which often comes with a small discount).
Consolidate vendors for optimal efficiency
By working with a pool of trusted vendors, retailers can limit the number of relationships and points of contact they have to manage, all while optimizing inbound and outbound load plans and improving customer relationships. For example, by consolidating to a smaller number of vendors, retailers are able to contain costs within that group, and can respond to supply chain needs faster. This method helps reduce the amount of vetting needed to identify trustworthy suppliers, more effectively communicate amongst their network, and place more orders at a higher volume.
Implement a sophisticated route management system
With the popularity of omni-channel shopping on the rise, consumers have come to expect a rapid purchase-and-delivery process, leading shippers to explore faster ways to get goods out for delivery.
One strategy retailers are using is pool distribution (or zone skipping). In this method, shipments bound for the same geographic destination or region are grouped together until there are enough to fill a full truckload. By consolidating, the freight doesn't travel to multiple sorting facilities prior to reaching its final destination. Through this route management tactic, shippers can identify efficient shipping patterns. This strategy not only gets maximum productivity out of a shipment, but it speeds up transit times and saves money in the process.
Benefits of omni-channel fulfillment strategies
A boost in revenue: Offering multiple buying channels where a customer can find your products opens up new market opportunities, which results in increased sales.
Reduction in delivery times, total cost: Retailers who offer multiple fulfilling options can better meet customer demand by filling orders closest to a customer's home. This results in minimized delivery times and overall shipping costs.
Increased customer satisfaction: Efficient retail fulfillment processes that don't compromise service improves a company's brand recognition and customer satisfaction.
 
ArcBest e-commerce fulfillment services
From identifying warehousing and supply chain deficiencies to implementing plans to become more efficient, businesses are constantly looking for creative ways to meet the needs of their customers. Through sophisticated route management systems like vendor consolidation or pool distribution, to a complete redesign of your entire supply chain operations, ArcBest® offers a broad portfolio of customizable solutions to help you improve your logistics model and reduce cost. Have questions about our supply chain services? Contact us at 844-560-2532, or leave us a comment below.