How does air freight work?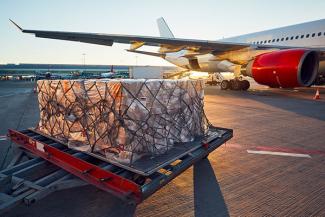 When you need to move freight fast
In this "need-it-yesterday" world, air freight shipping capabilities are a critical part of the supply chain for many companies. Air freight is designed for shipments that need to move across the country, or world, quickly and safely. It's the solution manufacturers turn to when an assembly line breaks down and a critical replacement part is needed to get it up and running fast. Pharmaceutical companies use air freight shipping to get temperature-sensitive immunizations across the world safely and quickly. And, high-value, high-demand electronic manufacturers use air freight to send products to retailers across the globe. 
Your options for moving shipments by air
When you think of shipping freight by air, you may think of cargo planes. While they are certainly one of the most common types of aircraft for freight shipping, there are other options as well — some that you may not have considered. Depending on your needs, freight also can travel in passenger planes or by private charter. The experts at ArcBest® can help you determine the best method of transportation for your goods based on your requirements. Below are the most common modes of air freight transportation.  
Commercial aircraft (passenger planes)
That's right, your freight shipments can travel in the cargo area of a passenger plane. This solution is normally ideal for smaller shipments. Many shippers find this to be an economical means of shipping via air, and because commercial airlines send flights out constantly, capacity as a whole is rarely an issue. Two types of aircraft are available with commercial shipping — narrow-bodied and wide-bodied planes. Both are designed to carry freight on pallets or in containers. Note that because freight is traveling with passengers, restrictions apply that you don't have with other air freight options, and there are size and weight limits based on the type of plane, the airline, and whether the goods are being shipped domestically or internationally.
Cargo aircraft
This may be the most common mode of transportation for air freight shipments. Cargo aircraft are used specifically for moving freight. They come in a variety of sizes, and while on the outside they may look similar to a passenger aircraft, they are modified to maximize the space of the plane to accommodate freight of all sizes. One of the largest, the Boeing 747-400, can hold about 26,000 cubic feet of cargo. Because these planes don't carry passengers, they have fewer Transportation Security Administration (TSA) restrictions, meaning they can handle freight that is large, heavy and even HAZMAT.
Air charter service
For critical freight that needs to meet a tight shipping deadline, air cargo charter services may be the best option. With air charter, you get exclusive use of a plane to meet your custom delivery requirements — with direct service to the destination and no transfers in transit. In most cases, this is the quickest way to ship across the country and around the world, including freight destined for remote locations. It's a solution often used for urgent shipping needs in the energy, mining and automotive industries and for sporting events, motion picture shoots and product launch.     
The advantages of choosing air freight
When you need to move freight across the country or around the world quickly, shipping by air gets it there fast, but the benefits don't stop there. Air freight also provides:
Minimal warehousing requirements
Air shippers tend to maintain smaller inventories and ship on tighter schedules, so there's less need to pay for warehousing space.
Added safety
Because the TSA tightly monitors airports, air freight shipping can reduce the risk of theft. And because air freight often travels on one plane from origin to destination and most can be moved without being broken down, there's less risk of damage as well.
Large service area
Most air freight forwarders that offer air shipping services have a large network of airlines that service both domestic and international locations, allowing you to get your freight to customers all across the globe with ease.
Access to capacity
Due to the frequency of commercial flights, commercial air freight forwarders are consistently able to meet service commitments. If a flight is missed, the freight can normally still deliver quicker than a cargo airline because later commercial flights will still deliver the same day.
Predictable delivery times
When you ship via air, there are a number of delivery times to choose from, including:
Same-day air/next flight out: This is the fastest way to ship by air, outside of air charter services. Choose this option to get your most urgent shipments to their final destination on the same day they're shipped.
Next-day air: Next day air delivers your time-sensitive freight to its destination by the end of the following business day.
Second-day air: A good balance of speed and cost, second-day air is a good choice for time-sensitive, cost-effective shipments. Freight traveling this method will arrive at its destination by the second business day.
Deferred air: The most economical shipping option, deferred air is optimal for lower priority freight that can wait to be shipped until there is space on an aircraft.
 
How do I calculate my air freight rate?
Air freight rates are based on the chargeable weight of the shipment. Chargeable weight is the gross weight (including the freight itself, the packaging and pallet) or the dimensional weight of the shipment, whichever is greater. Dimensional weight is calculated using a formula that includes dimensions of the cargo, divided by a dimensional weight factor. Typically, larger items with a light overall weight take up more space on an aircraft than a small, heavy item, which is why air cargo carriers use the chargeable weight formula.
How does an air freight shipment travel?
So how does air freight work? When you book your shipment with ArcBest, we'll coordinate with a local carrier to arrange for freight pickup at your warehouse or holding facility. Once the freight is loaded, a truck will tender the shipment to the airline. The freight is then loaded onto the aircraft en route to its destination. When it arrives at the destination airport, we'll arrange for the pickup of the freight and deliver it to the consignee. 
Consider ArcBest air freight shipping solutions
Through our partnerships with both domestic and international airlines, ArcBest customers get increased capacity, dependable arrival and departure times, exceptional customer service, a streamlined customs brokerage and clearance process, and customizable air freight solutions to suit your needs. To get a quote, or find out more information about our air freight services, you can email us, or give us a call at 800-874-2061.