How shipment tracking works with ArcBest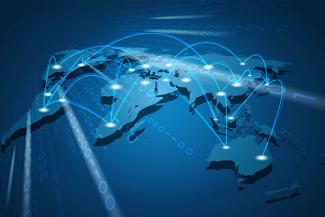 The importance of freight tracking
Customers' needs change and adapt with time, and so should their freight carriers. As technology becomes more sophisticated, it's not enough anymore for a carrier to make the promise to deliver freight safely and on time. Today, carriers need to be able to communicate shipment status reliably, and make sure that information is available around the clock so that customers can plan and know where their freight is at all times. That's why it's important to partner with a carrier that offers real-time online tracking capabilities. ArcBest® uses online tracking systems to provide greater transparency to customers when tracking shipments. Learn how our shipment tracking works and how you can benefit.   
Benefits of ArcBest shipment tracking
One of the most important capabilities a carrier can offer a customer is the ability to track and trace shipments. As a customer, shipment tracking offers you a number of advantages, including:
Up-to-date notifications
With online freight monitoring, you don't have to worry about the status of an in-transit shipment. ArcBest customers can use the tracking system to check transit status at any time. And, customers with an account can log in to access enhanced shipment tracking and planning tools, such as viewing your recently tracked shipments, reviewing any documentation tied to your account, or getting quotes for future shipments. Additionally, ArcBest customers also can provide their customers with a tracking number to stay up to date on the progress of a shipment.
Improved supply chain performance
Use the data that our managed transportation system provides to analyze and coordinate your orders. For example, let's say you're a warehouse supervisor managing the day-to-day movement of freight. You have to move a shipment off the floor to accommodate new freight that's coming in, so you need help planning everything out. By using the freight tracking system, you have access to our shipment planner which allows you to plan, manage and track shipments through an easy-to-use calendar interface — all from one central location.  
Freight monitoring
Utilize tracking systems to keep tabs on sensitive freight. If you're moving temperature-sensitive items that require a specific climate during transit, the temperature-control options through our Panther Premium Logistics® service allows you to monitor your freight and ensure the unit's temperature stays within the pre-determined range. This helps prevent damage to your product and provides peace of mind in knowing everything is going according to plan.
Account management
Our online tracking capabilities provide access to all of your account info in one place. See what's been delivered and what's currently in transit, with the option to sort and view shipments by date and location. In addition to tracking and tracing, you can view recent quotes or get new rate quotes on upcoming shipments directly from the customer dashboard.  
Increased visibility
ArcBest customers get a holistic view of their product's journey from purchase to delivery. Using our tools allows you to see the shipment's progress, monitor your supply chain performance and get automated notifications or alerts on anything that needs your attention.  
Better customer experience
Having freight tracking systems in place allows you to get accurate, up-to-date information about your order — including expected time of delivery — and timely communication with customers. These tools not only connect you with both your customer and your freight carrier, but also improve your supply chain as a whole, enabling you to provide a better overall customer experience.
Questions?
Have additional questions about our shipment tracking tools or how they improve your supply chain? Leave us a comment below.
Related posts: