Time for change
Supply chains aren't what they used to be. Congested docks, bottlenecks, increasing pressure to improve production and throughput, and a need to operate more sustainably are challenges our customers face daily. While there certainly have been adaptations to intralogistics — the flow of information and materials within a distribution center or warehouse environment — over the years, freight handling processes haven't changed radically since the forklift was patented over a century ago. To keep supply chains running smoothly, improvements are needed.
Our innovation teams understand this and have spent thousands of hours over the past several years listening to our customers, learning about challenges impeding their growth, and thinking about how we can improve processes and build efficiencies to help move their businesses forward. And our creative problem solvers went to work — developing and testing technologies and piloting them in our customers' locations.
Introducing Vaux™
This innovative suite of hardware and software solutions completely transforms intralogistics — creating efficiencies and orchestrating seamless warehouse operations. With a new way to load, unload and transfer freight and complete visibility into freight movement in warehouses, on the dock and over the road, it's a game-changer for companies facing supply chain challenges.
Where traditionally freight is loaded and unloaded piece by piece, requiring multiple touches and staging ahead of time, this first-of-its-kind technology enables the entire contents of a trailer to be unloaded in under five minutes, without freight handling operators touching a single piece of freight.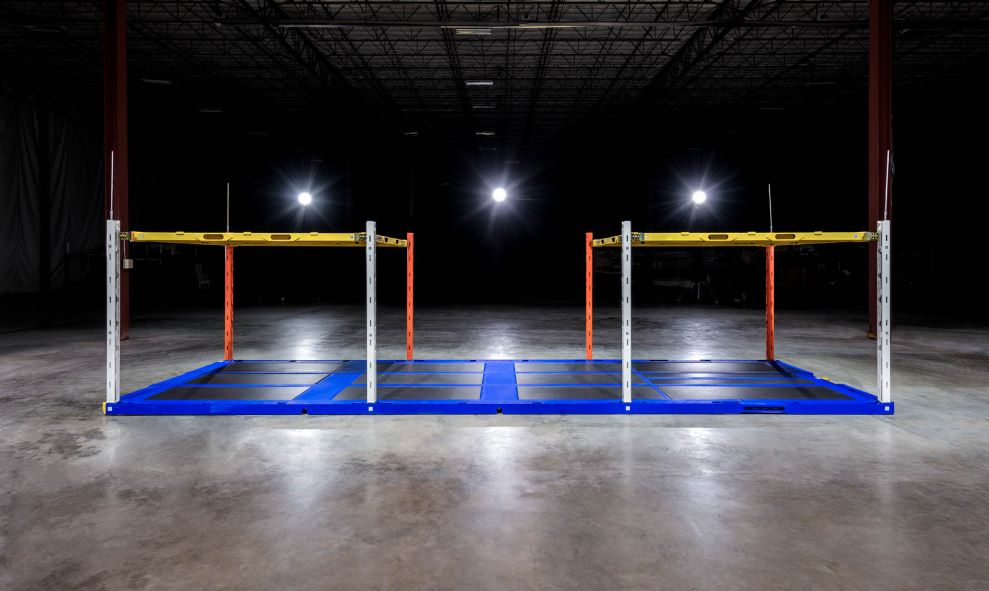 How it works
At the core of the Vaux Freight Movement System™ is our configurable Vaux MP™ and our MP Coupler, which enable freight handling operators to load and unload full trailers rapidly. The MP and MP Coupler connect seamlessly into our customers' warehouse operations through the Vaux OS™ — our suite of proprietary software that includes warehouse orchestration, operator fulfillment and MP Tracker — giving extreme visibility to coordinate efficient intralogistics processes.
The hardware
The Vaux MP can be configured thousands of different ways, based on each customer's needs. It fits perfectly inside a trailer and can be moved into and out of the trailer and around the warehouse using any standard forklift equipped with the MP Coupler.
The entire MP is moved out of the trailer in one swift motion. There's no longer a need for multiple forklifts to enter the trailer numerous times.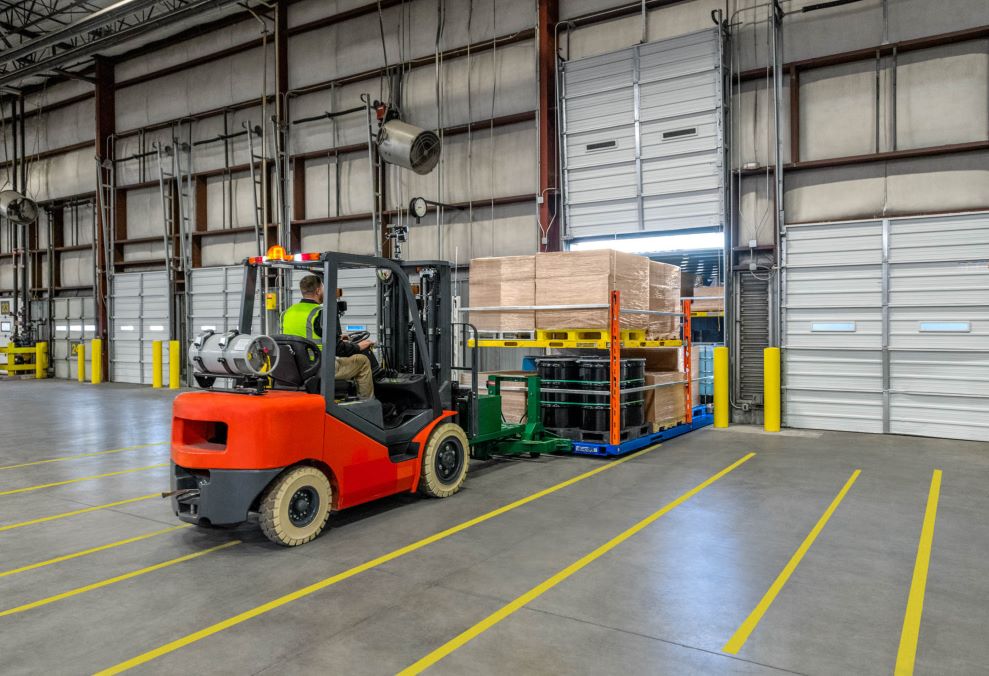 Once removed from the trailer, the flexibility of the MP Coupler allows for a tight turn radius. That means the MP can be maneuvered to the best place in the warehouse for working and unloading freight. It's not limited to straight in and out like other products you may have seen.
Outside of the trailer, freight-handling operators have access to all four sides, allowing them to pull product in seconds and entirely unload in minutes. We call this swarm processing, and it's an incredible sight to see.
The efficiency gains are remarkable.
MPs come in multiple sizes to accommodate different trailer types — including roll-up, swing door, vans and pups. Size options include 92", 96" and automotive widths; 26' length; industrial weight.
The Vaux OS
The MP creates extraordinary efficiencies and is revolutionary to the industry, but the real MVP is the Vaux OS. This software stack includes orchestration, operator fulfillment and MP Tracker. Until now, nothing has been available to meet demand, give complete visibility and keep up with today's dock management needs.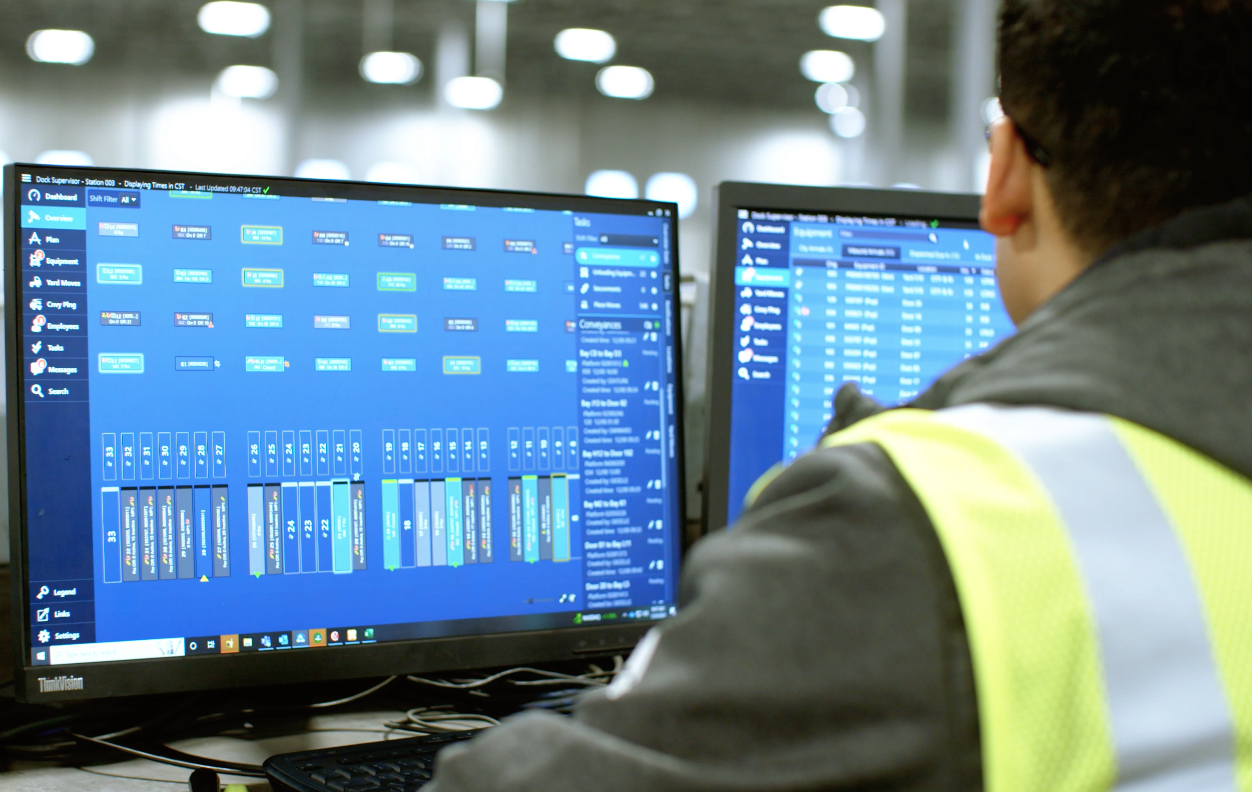 The Vaux OS integrates easily with existing warehouse management systems (WMS) through APIs and gives users real-time visibility into freight moves. It orchestrates freight movement and assigns tasks based on work prioritization and just-in-time optimizations, and its tracking and monitoring capabilities offer unprecedented visibility into operations — letting supervisors know the MP's location, giving real-time updates as situations change and notifying when, where and by whom tasks are completed. It creates efficiencies and offers insights that revolutionize intralogistics processes.
Vaux OS functionality includes:
Orchestration – This "control tower" concept connects the customer's Warehouse Management System (WMS) to Vaux data and capabilities. It supercharges the warehouse supervisor by providing visibility and insight into actions within the four walls of the warehouse — empowering them to make better decisions and more efficiently manage processes. It also offers decision automation through workflow optimization processes such as:

Intelligent task interleaving, which alternates between tasks to create opportunities to do productive work while returning an operator to the area of their original task, reducing deadhead activities.

Shipment Space Optimization predicts and sequences loading operations for the MP, 53' vans or 28' pup trailers, reducing training and institutional knowledge requirements for loaders.

Operator fulfillment – This software is embedded into operator devices and allows users to link shipments to MPs — enabling pick-to-platform and pick-from-platform capabilities and reducing freight handling and time to load and unload. Supplementing existing WMS capabilities, it also offers the ability to receive shipments loaded on MPs, so workers can quickly update the location of an entire load without requiring an operator to scan each individual shipment into a staging area.

MP Tracker – As the name suggests, this software gives complete visibility into equipment as it leaves the warehouse and travels down the road, regardless of transportation mode.
What Vaux technology means for intralogistics
The level of speed, efficiency and visibility Vaux offers changes everything.
Each day in a typical distribution center, thousands of pieces of freight move through numerous dock doors. At the same time, supervisors balance trailer unloads, check-ins, put-aways, hot shipments and last-minute requests. It's overwhelming, to say the least.
The burden is on management to ensure it all runs smoothly — ensuring dock utilization is optimized, and freight moves safely, on time and intact.
The Vaux Freight Movement System takes the pressure off warehouse management. Not only does it improve performance by exponentially speeding up the rate freight can be loaded and unloaded, but it also enables better decisions and empowers supervisors to manage the constantly changing requirements more efficiently — reducing trailer and driver wait times, improving workplace safety, and lessening the possibility of damage (fewer freight touches = less opportunity for damage).
And if cost reductions and improved sustainability are a focus, like they are for most companies, the impact can be significant.
Consider the shipper with fragile or irregularly shaped freight that can't be stacked. Because the MP is configurable by adding decking, walls or bumper rails, what used to be a partially full trailer is now fully optimized. This means less equipment is required, which results in reduced costs and environmental impact. Not to mention that MPs can be disassembled and stacked four in a 28' pup or eight in a 53' van, with rails on top, for equipment rebalancing and down-stacking.
What's next for Vaux
We're building the future of logistics. Our innovation teams continuously work alongside our customers, testing and improving the technology in their facilities with a focus on creating solutions that streamline freight handling, reduce or eliminate product damage, improve employee safety and optimize supply chains.