Recovery Resources for Delayed Freight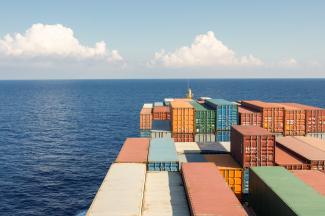 Hanjin bankruptcy causing shipment delays
Have you been notified that your ocean shipment is delayed? If so, it's quite possible that it's sailing on a Hanjin ship. Hanjin Shipping Co. Ltd, the world's seventh-largest container carrier, filed a court proceeding in Korea seeking to be placed into receivership on August 31, resulting in $14 billion in stranded cargo around the world, according to various media reports.  The company's vessels have been seized at ports or stranded at sea because of an inability to pay required fees. This is all happening at a critical time for retailers — when they're trying to get goods on the shelves in time for the holiday season.
Get help recovering your shipment
If you're among the many impacted by the Hanjin bankruptcy, the ArcBest companies have solutions to help rescue your cargo. Because of these unfortunate delays, most retailers don't have the time needed to move goods from the port to their distribution centers before delivering to retail locations across the country. We provide guaranteed capacity and centralized control necessary to get these goods delivered quickly and efficiently.
With end-to-end supply chain capabilities, here's how we can help:
Trans-loading and cargo deconsolidation. With access to containers at every major U.S. port and outside U.S. entry points, our cross-dock services ensure your freight is handled quickly and efficiently for direct delivery to your final destinations.
Warehouse and distribution services. From specialized packaging and product inspection to retail-compliant shipping and labeling, choose the options you need to meet critical distribution demands.
Expedited shipping. Select from a variety of dedicated team services for full loads, expedited ground and air solutions to speed up delivery of your delayed freight. We'll get it to you when and where you need it.  
Truckload and less-than-truckload shipping. Reliable over-the-road transportation allows for streamlined delivery at any location.
The ABF Logistics team is staffed to help you face these challenges and reduce the impact to your organization. If you need help getting your delayed shipment delivered quickly, fill out the form below, or call us directly at 888-890-4360 for immediate assistance.
Overview of Hanjin Shipping crisis
Hanjin Shipping is a South Korean ocean carrier that handles roughly 7% of U.S. and Asia cargo. According to a Wall Street Journal article, the company filed for receivership with the Seoul Central District Court just days after their creditors withdrew support, saying a funding plan by Hanjin's parent group wasn't enough to keep the company afloat. This was the beginning of a chaotic situation for shippers around the world. As a result of the filing, Hanjin stopped taking new shipments, causing their ground, rail and terminal operations to grind to a halt. Following the filing, ports began refusing Hanjin ships, while terminal operators, cargo handlers and freight carriers refused to handle cargo already loaded onto their ships. This was partly because the company couldn't pay fees, and partly out of fear that creditors would seek to seize the containers. In addition, loaded vessels were seized in the water in an attempt to collect money owed by Hanjin. The reported result is approximately 540,000 containers with delivery delays.
According to a Journal of Commerce article, on September 6, a U.S. bankruptcy court granted Hanjin a temporary order of protection, preventing any seizures, and a Korean court approved the release of some money to unload ships. At that time, three ships waiting off the ports of Long Beach and Los Angeles were able to be unloaded, but many more stand waiting to be recovered.
The latest news
Major news sources including Reuters and Bloomberg reported Sept. 22 that Korean Air Lines, Hanjin's largest shareholder, has agreed to lend $53.96 million to help unload the cargo that has been stranded since the end of August. The financing should allow ports to start receiving ships for unloading. One Hanjin ship that has been anchored at sea outside of Port Newark/Elizabeth for more than two weeks docked Thursday, Sept. 22 around 6 a.m. and began unloading around 8 a.m. Transport Topics reported later that day that Hanjin will not allow containerships anchored at sea to complete their journeys to the United States, adding to the confusion retailers were already experiencing. The vessels will return to South Korea, China, Singapore or Japan, and retailers will have to find another way to get their cargo to the United States.
We're here to help
For assistance recovering your cargo and fulfilling your holiday shipping commitments, contact the ABF Logistics team at 800-806-1967 for immediate support.