Why Carrier Certifications Matter When Shipping to Canada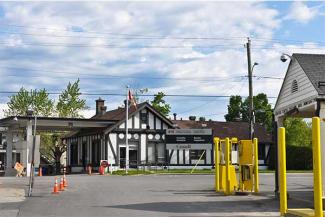 What certifications should a carrier have when shipping freight to Canada?
If you need to move goods into Canada, you know that a prolonged clearance process might result in missed deliveries and unhappy customers. To ensure your cargo clears customs quickly and efficiently, you'll want to hire a carrier that has the proper certifications and licenses. Several programs are in place to expedite border clearance, but the biggest advantages come from the Free and Secure Trade (FAST) program.
Benefits of FAST certification
The FAST program is a joint project between the United States and Canada that aims to tighten border security while still allowing trusted and approved freight to travel between the two countries. According to the Canada Border Services Agency (CBSA), the FAST program is designed to streamline the customs process for carriers hauling low-risk freight. Carriers that have FAST-approved drivers will receive:
Dedicated lanes at the border (where available)
Fewer inspections
Enhanced supply chain security
By choosing a carrier in the FAST program, your freight will have shorter wait times at the border and simplified clearance procedures. When a FAST-approved driver presents the required documents, border officers scan them and allow the driver to proceed. Trade-related verifications are done later, which means your freight can get back on the road quickly.
Contact Us
Connect with an expert
C-TPAT
Other border compliance programs
In order for a U.S. carrier to be eligible for FAST benefits, they must be part of the Partners in Protection (PIP) program and have Customs Self-Assessment (CSA) and Customs-Trade Partnership Against Terrorism (C-TPAT) approval. Additional benefits can be found through the Advance Commercial Information (ACI) e-manifest program.
Contact Us
Connect with an expert
PIP
Partners in Protection (PIP) is a cooperative effort between businesses in the private trade industry and the CBSA. These entities work together to improve security by preventing smuggling, terrorism and other crimes at the border. According to the CBSA, PIP was developed to provide a more efficient border-crossing process for preapproved freight carriers that move low-risk commodities such as retail products or electronics. Along with being a prerequisite for FAST approval, PIP also creates eligibility for carriers to take part in the CBSA Courier Low-Value Shipment (LVS) program. LVS is a program designed to quickly process low-risk and low-value shipments.
 
Contact Us
Connect with an expert
CSA
The Customs Self-Assessment (CSA) programmakes the international shipping process smoother for preapproved and bonded carriers hauling commercial goods. CSA certification gives the approved carrier access to the FAST program, creating a more efficient customs clearance process.
Contact Us
Connect with an expert
C-TPAT
Customs-Trade Partnership Against Terrorism is essentially the U.S. version of CSA. This program creates an agreement between low-risk carriers and U.S. customs to keep our borders secure. While participation in this program is not required for a carrier to move freight to Canada, it is required for FAST benefits at the U.S. border. Most carriers that ship between the U.S. and Canada will have both CSA and C-TPAT approval. 
Contact Us
Connect with an expert
ACI
The Advance Commercial Information (ACI) e-manifest program is a CBSA policy designed to offer more secure procedures for electronic business transactions. If a carrier is granted CBSA approval, shipment details can be electronically submitted prior to arrival. This allows for expedited manifesting and clearance at the border, and reduced wait times.
Book your shipment with ArcBest
ArcBest®  operates with each of these Canadian border security certifications, allowing the freight we handle to pass through customs quickly and safely. When you need Canadian shipping services, rely on ArcBest to get your shipments across the border securely and on time. Get a rate online or call 800-610-5544.