Our Commitment to Diversity, Equity & Inclusion
Diversity, Equity and Inclusion (DEI) are critical for any business, but especially one with global impact. ArcBest® is committed to creating a workplace that embraces all cultures, perspectives and experiences, so we can provide the best atmosphere for our employees and the best service to our customers. Our people are at the heart of our success and the reason we've been in business for nearly 100 years.
In December of 2021, ArcBest announced strategic DEI initiatives focused around four main areas: workforce, workplace, marketplace and community.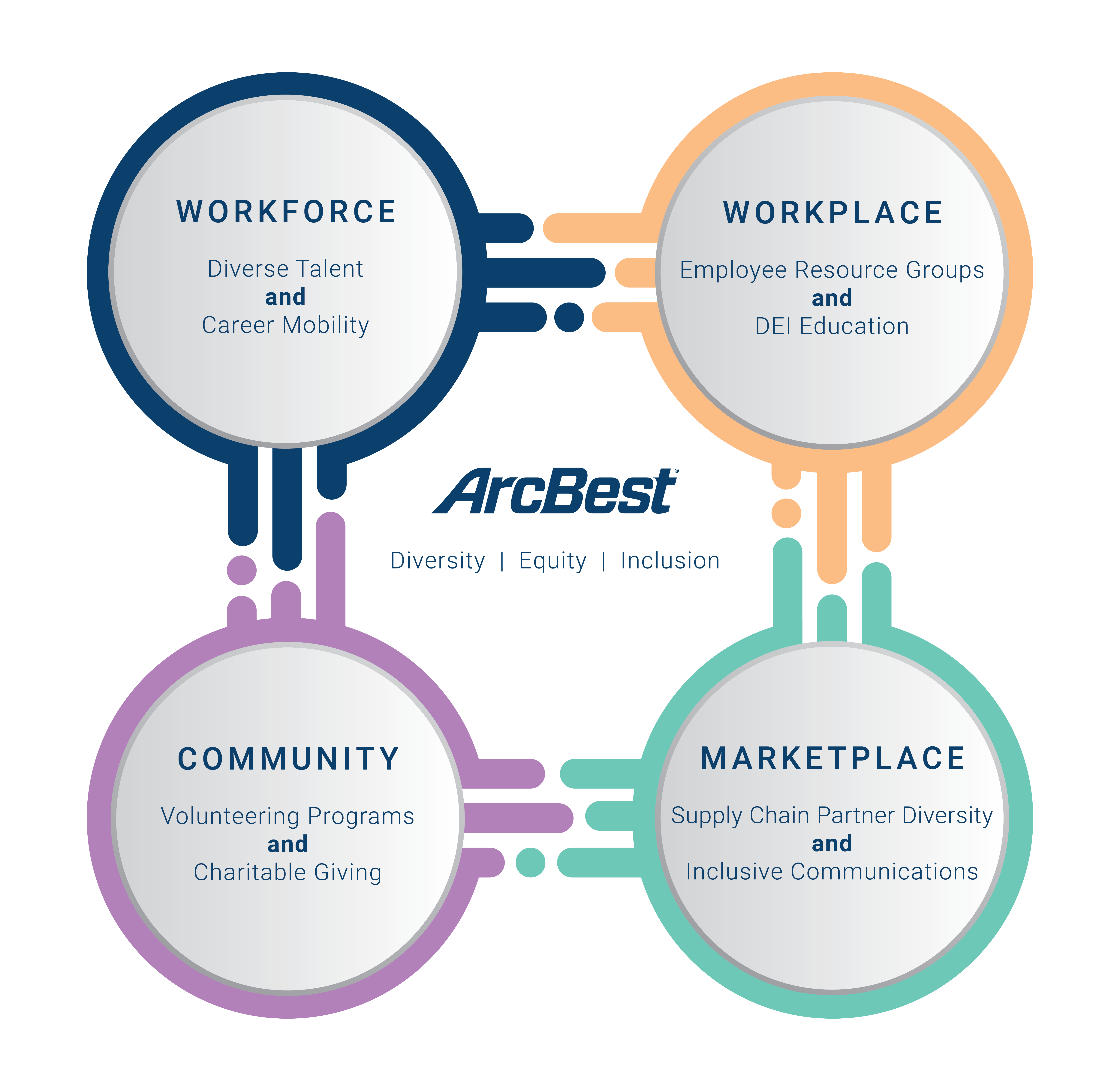 WORKFORCE AND UNIVERSITIES
A diverse workforce helps serve a diverse customer base. ArcBest is committed to recruiting underrepresented talent at Historically Black Colleges and Universities, and Hispanic Serving Institutions, veterans transitioning into civilian life and neurodiverse candidates. We also continuously monitor the mobility and career paths of underrepresented employees to ensure everyone has access to the necessary supports for success.
WORKPLACE
ArcBest embraces and encourages the experiences and perspectives of all employees. We do this through feedback in our annual engagement survey and by offering DEI education resources to all employees. Our focus also centers on establishing a framework for employee-led resource groups (ERGs).
MARKETPLACE
ArcBest helps keep the global supply chain moving. We partner with and provide opportunities for diverse vendors, owner-operators and carriers to drive sustained economic impact and growth.
COMMUNITY
Our network serves countless communities across the world. We're committed to deepening our impact by formalizing employee volunteerism and corporate giving efforts, and supporting the education of underrepresented students.
Awards and Recognition
Our values-driven culture sets ArcBest apart from others in the industry. Over the years, we have been recognized as a top logistics employer.
Equal Opportunity Employers
ArcBest Corporation and its Subsidiaries are Equal Opportunity Employers. We are firmly committed to providing equal opportunity in all aspects of employment and will not tolerate illegal discrimination or harassment of any kind, including discrimination or harassment based on: race, color, religion, age (40 or older), disability, protected veteran or military status, sex (including pregnancy, gender identity or sexual orientation) national origin, union activity, genetic information or any other characteristic protected by law. Examples of illegal discrimination or harassment include derogatory comments based on racial or ethnic characteristics and unwelcome sexual advances. The Company has a written policy prohibiting discrimination, including sexual harassment, with which all Directors, officers, employees, representatives, agents, sub-contractors, vendors and suppliers are required to comply.