9 Tips for a Successful Corporate Move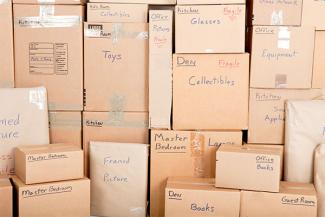 How to make corporate moving easier for transferees
Knowledge is power, and good communication almost always makes things go more smoothly. That's the case with a corporate move, too. Whether it's an employee's first move or fifth, they can do some simple things that will help streamline the process. The ArcBest corporate moving team has compiled nine quick tips designed to help transferees have a good experience. A move that goes well can make your job easier.
Top 9 corporate moving tips
Understand the process. When people understand what to expect, it typically results in a better overall experience. Long-distance moves normally take place over several days (including equipment drop-off, packing and loading, equipment pick-up, transit to the destination, delivery and unloading). Because of this, we recommend the transferee communicate with the moving service to determine move dates, packing and loading times, and expected delivery. Then, they can create a flexible travel plan based on the details of the move.

Make parking arrangements. Having a safe and legal place to park the moving equipment is essential for any move. In many cases, the equipment will be at the home for at least two nights. Permission typically isn't required if it's parked in a private drive; however, Home Owner's Associations, cities and apartment management may require a permit for parking lots or public streets. Check with the moving company to determine who is responsible for getting permissions/permits.

NOTE: With advance notice, the ArcBest corporate moving team can handle getting the required parking permits.

Provide all necessary information. It's important to provide accurate details to ensure the move goes smoothly. The company moving your belongings will need to know things like: move date, origin and destination addresses, closing dates and travel plans. With these details, corporate moving specialists can help coordinate a move that fits the transferee's schedule while also helping to ensure accurate delivery. If some details (such as destination address) aren't set, advise the moving company ahead of time, and let them know as soon as details become available.   

Plan for times when someone should be present. In most cases, someone (age 18 or older) will need to be present to sign for the moving equipment when it's delivered at both the origin and destination. Someone will also need to be on hand when packing and loading crews are working.

Note: With ArcBest corporate moving, the designated person can be the transferee, a spouse, family member or friend — we just need to know who will be present. This helps make the process as easy as possible.  

Check in often. There may be times when the moving service needs to ask questions or advise the transferee of situations that arise. Because of this, it's important to have accurate contact information (phone numbers and email addresses), and to regularly check emails, texts and voicemails to stay up to date.

Plan travel for the day after moving out. As transferees make arrangements to travel to their new home, we recommend planning the first day of travel for the day after move-out day. This often reduces stress as it gives flexibility for unforeseen things that can come up when moving. If the transferee needs to fly out early to start a new job, they may want to consider staggering travel so a family member can be present during the move.

Make reservations ahead of time. Advise employees to plan ahead for things like travel (rental car, flights, hotel), pet or child care services, utilities, apartment service elevators, etc., that are needed before, during or after the move.

Plan for storage (if needed). It's very common for people to wait until arriving in a new city to find housing. Storage may be a good solution while accommodations are being made. A corporate moving specialist can help determine the best storage options for the situation.

Inform the moving company of any changes. With equipment, transportation, real estate, travel and moving crews at play, there are many pieces to the corporate moving puzzle. Contact the movers if any details change or if issues arise. With timely communication, the moving company can work through changes to your situation quickly.
Work with experienced corporate moving professionals
As you partner with your transferees, pass along these tips to help them throughout the process. Your goal is a successful move and a happy employee — and this advice gets them well on their way. The best way to ensure a successful move is to work with a reliable moving service. ArcBest corporate moving provides a single point of coordination so transferees get seamless services. Contact one of our employee moving specialists at moving@arcb.com or call 800-940-9155 for more information.