ABF Freight Driver Impresses Customer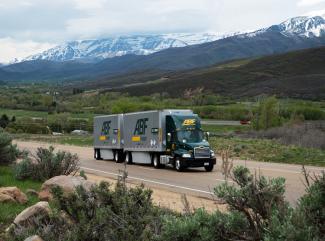 The Skill is maneuvering a truck up a long residential driveway.
The Will is impressing a customer.  
Based on past experiences with other companies, a customer was doubtful that a driver for ArcBest® less-than-truckload carrier ABF Freight® would be willing to deliver a shipment up his 1,000-foot driveway.
But that's exactly what ABF Freight driver Tim Clark did.
Before the shipment was expected to arrive, the customer contacted the Louisville, Kentucky, service center to discuss the concerns with his driveway. The customer said drivers for other carriers have told him they simply can't come up the driveway, but they have never offered a solution. Service center personnel advised the customer that the driver would make a decision regarding the driveway when he arrived for delivery and assessed the situation.
When Tim arrived to deliver the shipment, he did more than just drive up the long driveway. He helped the customer unload the freight and move it into the customer's barn. The customer was impressed, and called the Louisville service center to praise Tim's efforts.
Tim went above and beyond on the delivery and "never missed a beat," the customer said, while also praising Tim's professionalism.
ArcBest customers can trust the superior LTL solutions ABF Freight provides along with a best-in-class experience. Our vision, We'll Find a Way, embodies the will of our people to do the hard things well — like Tim did.