ABF Freight Driver Shows 'Willingness to Help' During Home Delivery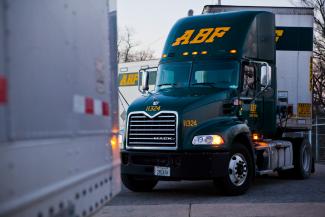 For ABF Freight drivers, making a delivery often involves more than simply unloading a box. It means interacting with a customer and being as friendly and helpful as you can.

Driver John Ritchie displays these qualities, as one customer said after John delivered a 250-pound package to the man's home.


"Unlike most delivery drivers who are usually in a hurry to deliver the package and disappear, John went the extra step." He alerted the customer to black marks on the box, warning him so he wouldn't drag the box across a room with the marks touching the carpet. It was an extra step the customer greatly appreciated.
John then explained that the signed delivery receipt would be emailed within 30 minutes, and he delivered on that promise, which also pleased the customer. He said John's willingness to help was evident during their whole interaction.

"I would like to commend John Ritchie for his great attitude, excellent customer service skills and above all his willingness to help," the customer wrote.

Showing customers the skill and the will through helpfulness, patience and friendliness — that's ABF Freight.