The Impact of DOT Week on Shippers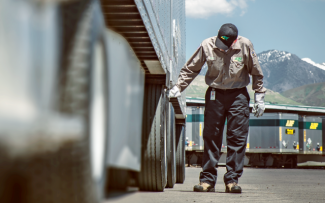 What shippers need to know about DOT Week
Each June, the Commercial Vehicle Safety Alliance (CVSA) hosts the International Roadcheck — commonly known among shippers as DOT Week. Since its beginning in 1988, more than 1.6 million roadside inspections have taken place to promote commercial motor vehicle and driver safety. The 2019 dates are June 4-6.
During the blitz, CVSA-certified inspectors will examine an average of 17 trucks and buses per minute in the U.S., Canada and Mexico. Some carriers (including for-hire or private fleet owners) may opt to sit out these three days, and the DOT may place other carriers out of service until they correct any issues.
For shippers, this could mean tighter capacity and delayed deliveries. As a shipper, what can you do to prepare for DOT week and make sure your shipments deliver on time? Find answers to these questions, and learn how ArcBest® can help.
About the 2019 International Roadcheck
Most inspectors will perform the North American Standard Level I Inspection. This procedure involves a 37-step examination of the vehicle and driver operating requirements. Every year, the CVSA emphasizes certain components, and in 2019, they're focusing on steering and suspensions. If the vehicle and driver pass inspection, the CVSA will apply a decal to the truck, indicating that it passed. But, if they find critical violations, the truck and/or driver may be taken out of service.
How shippers can prepare
Being proactive about DOT week is a simple way to ensure the inspections don't disrupt your supply chain. You may want to consider sending your shipments out early so that they reach their destinations before road checks begin. If that's not an option and you need to move freight during these 72 hours, it's critical to use a reputable carrier that routinely maintains its equipment and can provide the solutions you need.  
How ArcBest stays prepared for DOT week
ArcBest is dedicated to operating safe and reliable equipment all year long — not just during DOT week. From headlight to taillight, we work to ensure our ABF Freight® trucks, the Panther Premium Logistics® fleet, and vehicles from our growing network of 20,000 pre-qualified service providers receive regular maintenance. Each day ABF and Panther drivers perform pre- and post-trip inspections. We also conduct full preventive maintenance inspections on our power units and trailers each year to assure all parts work properly. And, all of our vehicles go through one annual DOT inspection, following the same 37-step procedure as the North American Standard Level I Inspection.
Get ready for DOT Week 2019!
If you're concerned about finding available capacity during DOT week, ArcBest is ready to help. From LTL and Truckload shipments to Expedite and Time-Critical — we have solutions for all scenarios. And because of our commitment to maintaining safe and reliable equipment, you don't have to worry about your freight being delayed due to an out-of-service vehicle.
Call 800-610-5544 to discuss options or book a shipment.