ABF Freight Employees Ensure Quality at All Levels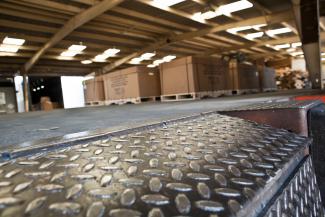 ABF Freight customers can count on employees at all levels to take care of their merchandise throughout the entirety of a shipment process. 

While inspecting shipments on the dock at the Carlisle, Pennsylvania, terminal, Justin Montanez noticed the bottom of a crate had come loose. The crate contained large coils, which were secure at the top but not at the bottom or middle, allowing them to move back and forth and bang against each other inside the crate. 
Justin, an analyst in the Weighing & Research department, asked dock employee William Kish to repackage the crate so the coils would not be damaged. He also provided photos taken before and after the repackaging for follow-up with the customer.

The branch manager at the origin terminal used Justin's actions as an example to show the customer why ABF Freight should continue to be their preferred carrier. 

Justin showed he has the skill to notice the small details regarding shipments and the will to make sure freight is delivered without damage.