ABF Freight, Moving Staffers Provide Solutions for Distributor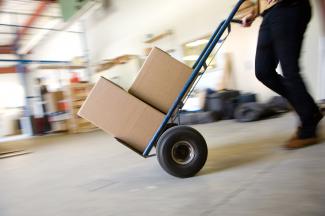 An auto parts distributor needed to close a facility and consolidate and move its inventory in only one week's time, and sought a transportation partner to make it happen.
ABF Freight teamed up with Moving Staffers, an ABF Logistics brand, to provide a quote for labor to meet the customer's expectations. The customer needed to move 30,000 square feet of product in various stages of packaging from Massachusetts to Ohio.
"We were the only company to provide them with one proposal and one invoice for the entire project," which impressed the customer, noted Jill Breen, an ABF Freight account manager.
The customer chose to use ABF Freight equipment, enabling ABF Freight to control the pickup, transit and delivery completely.
Jill said the linehaul team and the local ABF Freight terminal were quick to respond to the customer's needs. ABF Freight delivered the required 14 trailers, and the Moving Staffers team went to work moving the customer's products into the trailers. The Moving Staffers laborers were so efficient that they got the job done a day faster than estimated and with fewer trailers than planned — which allowed the customer to come in under budget.
The customer was so pleased with the service that they intend to use ABF Freight and Moving Staffers with their next consolidation on the West Coast.