ABF Freight, Panther Premium Logistics Work Together for Time-Critical Solutions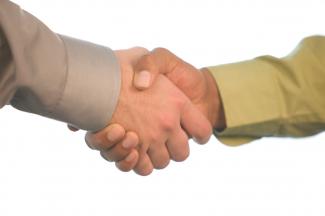 Account Manager Karl Peura knew a customer used ABF Freight® for a number of services, but he also recognized potential ways Panther Premium Logistics® could provide additional solutions for them. He set up a joint call between himself, the customer and Tom Steyer, a territory manager for Panther.
The customer often relies on ABF Freight for its time-critical service, but as Karl noted, the conversation during the call revealed additional information. "Much to my dismay, I learned they used other carriers for expedited shipments that could include air service," Karl said.
Tom then described the solutions Panther could offer in ground expedited, domestic air and international air services.
The customer's strong relationship with ABF Freight gave them the confidence in Panther.
Eventually, the customer needed a straight truck for a shipment from Ohio to Virginia, a service ABF Freight could not provide but could be handled by Panther.  
The customer was pleased with the service from Panther, and a positive experience using the web-tracking tools on Panther's website also led them to take a deeper look at the online tools ABF Freight offers.
By working together across the ArcBest enterprise, Karl and Tom provided the customer with a depth of service and expertise.