May and June 2018 trade shows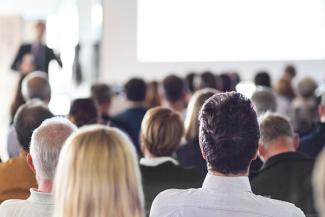 Trade shows taking place in May and June 2018 in the U.S.
Looking to be a trade show exhibitor this summer? Because you want to avoid attending a show that provides little value in the way of new business contacts or sales opportunities, it's important to find one that meets your company's business goals. Start planning your schedule by reviewing this curated list of upcoming shows in May and June. If you need to ship your booth, contact ArcBest® for help managing the trade show services you need.
May trade shows
Offshore Technology Conference
An estimated 65,000 oil and gas industry professionals from across the globe will be on hand for the Offshore Technology Conference, slated for April 30 through May 3 at NRG Park in Houston, Texas. The event allows vendors to display products like solar turbines, heavy equipment, and other related electronics and technology in front of buyers in their target market.
XPONENTIAL 2018
Owners, operators and manufacturers of drones and unmanned aircraft will gather at the Colorado Convention Center in Denver, May 1-3 for XPONENTIAL 2018. More than 8,500 professionals from a variety of fields — such as film, agriculture and public safety — are expected to attend, giving vendors the chance to meet clients face-to-face, market their products and network with others.
HD Expo
The Hospitality Design Network will host its annual HD Expo May 2-4 at Mandalay Bay in Las Vegas. It's one of the industry's largest trade shows and a place where exhibitors will find designers and decorators from establishments like hotels, restaurants, casinos and nightclubs in one location. It's an ideal time for suppliers, merchants and others to buy or sell products, learn about new trends and concepts, and attend networking events.
AWEA WINDPOWER
The AWEA WINDPOWER Conference & Exposition draws thousands of attendees each year and is considered one of the world's largest wind energy conferences. It takes place this year at McCormick Place Convention Center May 7-10 in Chicago. The event offers attendees a chance to get updated on the latest trends and research, hear keynote presentations, attend training sessions and other educational opportunities.
LIGHTFAIR International
LIGHTFAIR International will be May 8-10 at McCormick Place in Chicago. The conference connects manufacturers and designers of commercial and architectural lighting products to architects and professional lighting officials who are looking to discover new trends and products.
NRA Show 2018
The NRA Show (National Restaurant Association) will host its annual international foodservice marketplace event May 19-22 at McCormick Place in Chicago. More than 45,000 restaurant owners, executive chefs, food science professionals, and other food and beverage providers are expected to attend the show. The event will showcase the latest in industrial kitchen hardware design and accessories, new technology and other items related to the foodservice industry. Organizers estimate that more than 82 percent of attendees have purchasing influence.
International Contemporary Furniture Fair
The International Contemporary Furniture Fair (ICFF) will take place May 20-23 at the Jacob K. Javits Convention Center in New York City. Makers and suppliers of high-end contemporary furniture and other home and office décor such as carpets, rugs and textiles, lighting, flooring, and kitchen and bath accessories should plan to exhibit at the event.
RECon 2018
Thousands of retail real estate industry professionals, travel agents, and cruise line and international tourism representatives are marking their calendars to attend RECon 2018 May 20-23 at the Las Vegas Convention Center in Las Vegas. The event is an excellent opportunity for industry suppliers to display their products and mingle with prospective clients and for visitors to attend keynote presentations, participate in workshopping activities and take part in networking events.
Licensing Expo 2018
More than 16,000 of the world's leading entertainment and art representatives, consumer product manufacturers, wholesalers, distributors and others who work in legal branding protection and licensing are expected to attend the Licensing Expo May 22-24 at Mandalay Bay Convention Center in Las Vegas. At the conference, exhibitors can connect with licensing and branding professionals from across the world.
Top shows happening in June
Blade Show 2018
Collectors, manufacturers, wholesalers and retailers of blades, knives, swords and other cutlery items are planning for Blade Show 2018 on June 1-3 at Cobb Galleria Centre in Atlanta. The event is the world's largest knife show, and more than 300 exhibitors are expected to be in attendance.
BookCon
Book publishers, authors, collectors and readers are preparing for BookCon, which is set to take place June 2-3 at the Jacob K. Javits Convention Center in New York City. The annual convention offers guests an opportunity to keep tabs on their favorite writers, learn about new titles, and discover up-and-coming writers and genre trends in the industry.
InfoComm
Audio-visual enthusiasts are making plans to attend InfoComm June 6-8 at the Las Vegas Convention Center in Las Vegas. More than 1,000 exhibitors of technology, accessories, gadgets and other items related to the audio-visual field are expected to attend.
IDDBA 2018
The International Dairy Deli Bakery Association's annual conference will be held June 10-12 at the New Orleans Ernest N. Morial Convention Center in New Orleans. Vendors will have access to thousands of dairy, deli and bakery officials who will be shopping for the latest cooking and kitchen products. The symposium also offers live cooking demonstrations, hands-on educational seminars and networking opportunities.
Western Roofing Expo
Contractors, roofers and construction professionals will gather June 10-12 at the Paris Las Vegas Hotel & Casino in Las Vegas for the Western Roofing Expo. The event offers an abundance of networking and educational opportunities and gives attendees a chance to explore booths to discover new products, technologies and other services. The expo is the roofing industry's largest trade show, and it gives exhibitors an opportunity to promote their brand in front of prospective clients. 
ACE18 AWWA Annual Conference & Exposition
The American Water Works Association's (AWWA) Annual Conference & Exposition (ACE18) takes place June 12-14 at the Mandalay Bay Convention Center in Las Vegas. The conference draws hundreds of industry thought leaders and thousands of the trade's professionals each year. Exhibitors with products and services such as supplies and technology geared toward water sciences, monitoring and purification should plan to attend.
AETC 2018 (Alabama Educational Technology Conference)
The Alabama Educational Technology Conference will be June 12-14 at the Birmingham-Jefferson Convention Complex in Birmingham, Alabama. The conference provides educators, information technology professionals, and other faculty and staff professional development opportunities that include hands-on workshopping events, keynote speakers and brainstorming sessions to help develop curriculum guidelines and educational strategies.
NSA Education and Technology Conference
The National Sheriffs' Association's annual Education and Technology Conference is June 15-19 at the New Orleans Ernest N. Morial Convention Center in New Orleans. Sheriffs, deputies and other law enforcement will gather for the event to learn about new technology, products and equipment that will enhance the services law enforcement provides to keep the public safe. Exhibitors with products such as video surveillance systems, electronic tracking devices, patrol unit electronics and other items related to law enforcement work are expected to be in attendance.
ALA Annual Conference & Exhibition
The American Library Association's annual conference will be June 21-26 at the New Orleans Ernest N. Morial Convention Center in New Orleans. The conference brings together some of the country's top librarians and library staff, as well as educators, authors, publishers and others. The event features social engagement activities, educational seminars and a chance to meet with and sample products from the more than 900 exhibitors who are expected to be in attendance. 
United Fresh Show 2018
Fresh food, produce and cold chain retailers and wholesalers, along with farmers and harvesters and those with supplies and technologies related to the food and produce industry are making plans to attend the United Fresh Show 2018 June 25-27 at McCormick Place in Chicago. As an exhibitor, you'll learn about upcoming industry products and trends, increase your brand visibility, get feedback from customers and keep tabs on your competition.
Summer Fancy Food Show
The Summer Fancy Food Show will be June 30 through July 2 at the Jacob K. Javits Convention Center in New York City. The Summer Fancy Food Show is one of the premier events for food and catering industry professionals, executive chefs and restaurant owners who specialize in preparing high-end food. At the show, new products and kitchenware gadgets will be on display. Additionally, cooking technique courses and other educational sessions will detail cutting-edge food service-based research.
Trade show shipping with ArcBest
Along with careful, professional handling of your materials, when you ship with ArcBest, you'll have access to our online shipment tracking tools and will be provided with safe and prompt delivery, to ensure your freight arrives on time and intact. We'll match you with an experienced trade show coordinator to help manage your shipping needs from start to finish. For more information, call 844-560-2527.