Road Driver Marshall Land Reflects on 55 Years of Driving for ABF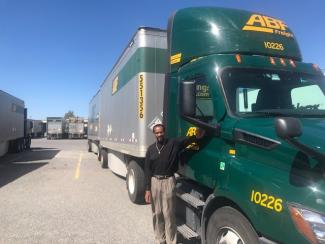 Marshall Land, a road driver at our Little Rock, Arkansas, service center, has been living his dream of driving trucks since 1965. 
"As a young boy, I had a few dreams — I wanted to be an airplane pilot, I wanted to drive a Greyhound bus, and I wanted to be a truck driver," Land said. "I ended up pursuing my No. 1 dream, which was driving trucks. I stayed with it, put a lot into it and have gotten a lot out of it." 
Land began his driving career one year after the passage of the Civil Rights Act of 1964.  
The Act served as the nation's benchmark civil rights legislation that ended segregation in public places and banned discrimination on race in hiring, promoting and firing.  
The new legislation provided opportunities for many Americans, including Land, who at age 21, was hired as a road driver by East Texas Motor Freight — which ABF acquired in 1982. 
Land said when he began his career, he never dreamed he would still be driving 55 years later.  
"The more I worked, the better I liked it, and I guess I still don't know what the limit is," Land said. "I'm 78, my health is good, I work six days a week, and I'm still enjoying every minute." 
Over the course of his career, Land has covered a lot of ground, working in Houston, Texas; Dallas, Texas; Jackson, Tennessee; and Little Rock, Arkansas.  
With 55 years and thousands of miles behind him, he has witnessed a great deal of change. 
"When I first started, we didn't have good equipment like we do now," Land said, "We didn't have air conditioning, power steering, air ride seats or air ride suspension. There have been a lot of changes." 
As a veteran road driver, Land said he tries to be an inspiration and good example to the young drivers behind him. 
"I always tell them, it's a good job, and the more you put into it, the more you'll get out of it," Land said. "You can make the job whatever you want to, as long as you try hard." 
Land is "a good person and a hard worker," said Brent Lloyd, manager – line operations at our service center in Little Rock. "He doesn't miss a trip and has a great attitude. He loves to drive for ABF." 
Being a hard worker is a character trait that was instilled in Land at a young age.  
"I am one of 14 children and was raised on a farm in Texas," Land said. "My dad raised 14 kids, worked on the farm and contracted himself out to work for the community." 
Land now lives on three acres in Scott, Arkansas, and is happily married to his wife of 15 years, Sharon. He has seven children, 14 grandchildren and one great-grandchild. 
"Working for ABF allowed me to help seven children receive a good education and graduate college," Land said. "My job helped me make my children successful and get them to where they are now. I've got to say, this company has been good to me and my family — and it still is good to me!" 
Land said his children are grown and on their own — many of them holding master's degrees. He said he is proud of their accomplishments and thankful he was able to support them along the way.  
When asked what he likes most about being a road driver, Land said he enjoys being out on the road and meeting different people. 
"It's totally relaxing to me," Land said. "I get to think a lot while I'm driving, and I have the opportunity to be courteous to other drivers and everyone on the road. I do unto others as I would like them to do unto me. That's how I was raised." 
Reflecting on his career, Land said, "I've certainly enjoyed working for ABF and I'm still enjoying it — it's been a good company. I've been a dedicated employee, and I've tried to work to make the company even better. I always say that when I get to heaven, if ABF has a company there, I'm going to put in my resume."