Throwback Thursday: 1962 — ABF Freight-Delta System Map Shows Expansion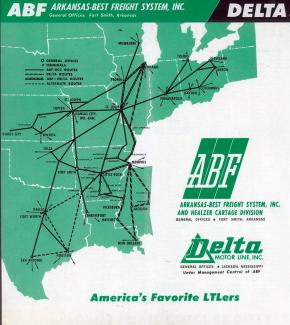 When ABF Freight® (then known as Arkansas-Best Freight System) acquired Jackson, Mississippi-based Delta Motor Line in October 1962, the purchase gave ABF Freight the authority to operate throughout the Mississippi Delta — from New Orleans and Jackson up through Memphis and into Chicago.
Delta had service centers in Mississippi, Arkansas, Illinois, Indiana, Louisiana, Missouri and Tennessee. With the acquisition, ABF Freight ranked 14th among the nation's truck lines.
On Oct. 11, 1962, the Interstate Commerce Commission granted ABF Freight temporary authority to operate Delta. The ICC then approved the full merger on June 16, 1965.
A 1965 news article about plans for a new service center stated that "ABF-Delta employs approximately 2,000 people throughout the system and operates a mobile equipment fleet number in excess of 2,200 pieces."