Throwback Thursday: 1969 — Ford Model 1000 Tandem Road Tractors Bought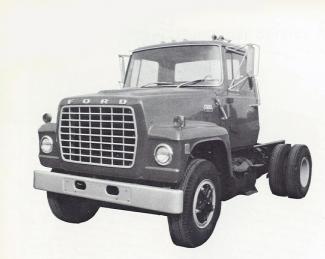 In December 1969, employees learned about new road tractors scheduled to be delivered in 1970.
According to Harry Fink, the ABF Freight® vice president of maintenance at the time, ABF Freight purchased 118 new Ford Model LNT 1000 tandem road tractors.
 "All will be of a short conventional design to accommodate doubles as well as 40-foot trailers, and will be equipped with NHTC 270 Cummins diesel engines," a note to employees states. "Each tractor will be equipped with two 110-gallon fuel tanks.
"They will have tinted windshields, but the side windows and mirrors will be clear for better night perception. Other driver conveniences scheduled for inclusion will be Graham-White two-way vents in the roof for better fresh air ventilation as needed. For use with portable radios, antennas will be mounted in the roof near the center of the windshield, and a hot-line terminal will be available in the cab."
The first 20 units were placed into service in February 1970.
At ArcBest, we continue to invest in technology and equipment. Road tractors purchased this year are equipped with enhanced safety technology, including lane departure warning and collision mitigation.