Throwback Thursday: 1970 — ABF Freight's 'Appreciate Your Traffic Manager' Campaign A Hit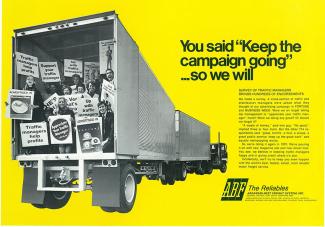 In 1969, ABF Freight (then known as Arkansas-Best Freight System) introduced a new advertising campaign: "Appreciate Your Traffic Manager (ABF Does)."
The ads appeared in publications such as Fortune, Business Week, Traffic World and Traffic Management. They also appeared in employee publications and memos.
The campaign proved popular, as the advertisement pictured shows.
"A cross-section of traffic and distribution managers were asked what they thought of our advertising campaign," the ad states. "Were we on target telling top management to 'appreciate your traffic manager' more? … 714 respondents said 'great, terrific, a first, a scoop, a great public service, keep up the good work.'
"So we're doing it again in 1970. … Incidentally, we'll try to keep you even happier with the world's best, fastest, safest, most reliable motor freight service."
Ultimately, the "Appreciate Your Traffic Manager" campaign continued through most of the 1970s.
Our latest national ad campaign — "Welcome to Simplistics™" — was introduced this year. It showcases how we make unimaginable deliveries happen every day. Welcome to Simplistics. Welcome to ArcBest.